Pokemon Go now rolling out to Android and iOS, APKs available [Screenshots too!]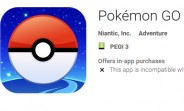 This is not a drill. The highly awaited mobile game that Nintendo has been closely working on with Niantic Labs (creators of Ingress) is finally here! Well sort of.
The augmented reality game is now rolling out to Android and iOS users in the US, Australia, and select other countries. If you try to install the app through the Play Store right now, you'll probably get an "incompatible device" issue which does not allow you to access the app.
Still, this is the full version of the game and not a Beta, the game will let you sign up with your Google account or Pokemon Club account.
The setup is really simple, you are greeted by Professor Willow (yeah, every game's professor has a tree's name) and then you are asked to choose a style (boy or girl).
You can customize your player with different hair color, eye color, skin color, and different color combinations of your outfit, but there aren't more than maybe 4 style of each piece of clothing.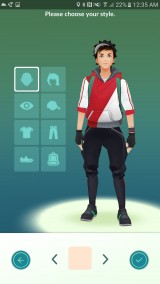 The good news is that APKMirror has a copy of the game available to side load for Android users (the game is reportedly not running on the Android N dev preview). Bad news if you have iOS though, as it seems like the only way to get the game installed on your device is if you are in Australia as the game is clearly visible on the Australian iTunes website. This could, of course, change by the time you read this.
Then you are greeted with the infamously tough decision of choosing a starter Pokemon. Before I make this decision, I think I need to sleep on it. Which Pokemon do you want as your starter?
Source: Play Store / iTunes AUS | Via
D
so... incompatible meaning just restricting the app access right? not really an issue with my phone i supposed... btw..mine is xperia z1...for sure meet with GO's minimum reqs...
D
Well, It was appearing that GPS was not found, I was on the internet and disabled it, so this error is not appearing anymore. And in that moment even appeared the Pokémon, but now it's not working. So it's a thing you should try if you are get...
A
I would like to ask, how do you know if there was a pokemon near you?