Poll results: Galaxy Note5 wins platform clash vs iPhone 6s Plus and Lumia 950XL
A winner among droids, and now a winner among platforms - we give you the Galaxy Note5. Samsung's latest in a line that started the whole phablet trend captivated the most of our readers in yet another poll this week. This time around the Note5 gathered more than half of the total votes for an uncontested 51% win.
In a more curious turn of events, the Microsoft Lumia 950 XL came in second, 5 points ahead of the iPhone 6s Plus. Persisting anti-Windows rants about lack of apps and the OS being bug-infested don't seem to have affected the Lumia's image in the eyes of loyal fans.
The iPhone 6s Plus has to settle for third place in our poll, which in all likelihood will mean zero to the company. After all, the most recent financial report out of Cupertino cited quarterly records in both revenue and profit, which isn't something Microsoft's smartphone division can brag about.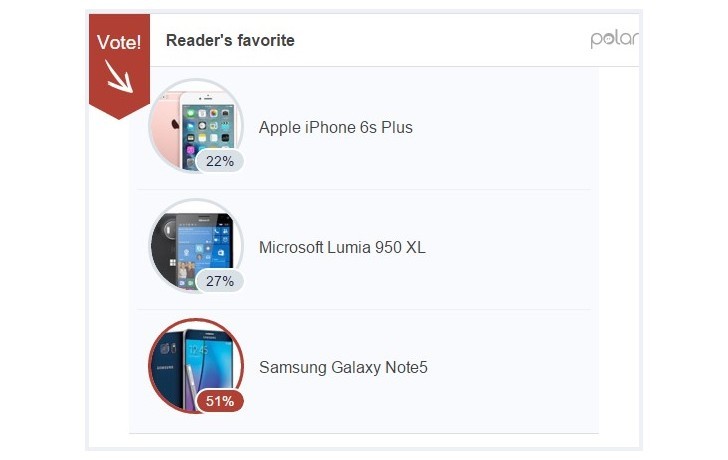 ?
Smart people choose windows 10 bec.smart choice.smart camera phone.and Have expndable memory that's it.not android or apple that boring phones.
J
Smart peoples prefering to Samsung... Hahaha
G
with a microsoft mobile phone? duh??!! why this phone is being compared with Samsung G5 and Apple iP6s? This has no count! get another phone like Huawei, HTC, or better SONY Xperia Mobiles. so that people would only see top mobile phones nowadays. no...