Bright future ahead for the Huawei P9 and P9 Plus if our poll results are any indication. Both phones got an overwhelmingly positive reception with the Plus only a tiny bit ahead of its plain brother.
So, dual-cameras, premium metal build, fingerprint sensor, fast processor vs. no 4K video recording? That's 4 to 1 in favor, which is exactly what the P9 gets. Well, yes, admittedly we picked arbitrary pros and con for that statement, but the ratio still stands.
In more precise figures, the Huawei P9 gathers 78% of upvotes and we'll go ahead and count that as a sign of approval for dual cameras. Not that it matters that much as phone makers are already going in that direction as it is.
The P9 Plus collects a marginal 2% on top of that, for a total of 80% thumbs up. Should we interpret that as the portion of our readers who'd use the headline Pressure Touch? Or just the "bigger is better" principle at play?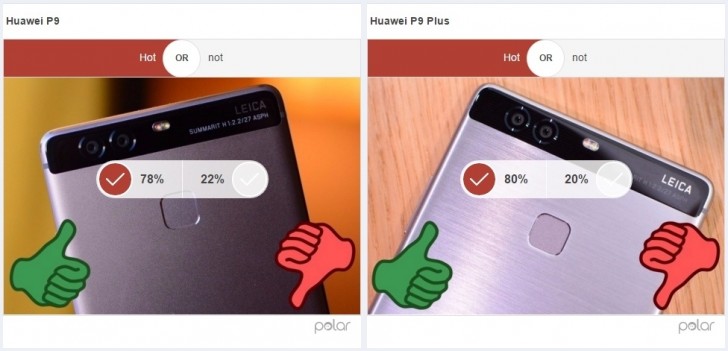 I got clued in to Huawei by my gf. She works in I.T. all the routers are Huawei.. I've seen many comments about cheap and Chinese, that's rapidly becoming a compliment not an insult.
I have tried a few Huawei devices - liked the Ascend Mate 7, but Huawei is relatively expensive compared to some other Chinese brands, like Meizu and Xiaomi. The P9 Plus will be in the same range as the HTC 10 to buy outright.