OnePlus smartphones have always had quite the following, and with the OnePlus 3 the trend continues. The third generation flagship-on-a-budget got an overwhelming 84% of upvotes in our Hot or Not poll from last week.
Six out of seven voters found reasons to love the OnePlus 3, whether it's value, looks, or performance. As usual though, the naysayers' voices were louder. Be it the display, battery life, or lack of microSD slot, a lot of complaints were made and the number isn't really proportionate to the actual number of votes.
For our own findings, be sure to check out the in-depth review of the OnePlus 3 where we praised its camera and performance, and aside from the obvious lack of microSD slot, we struggled to find fault with it.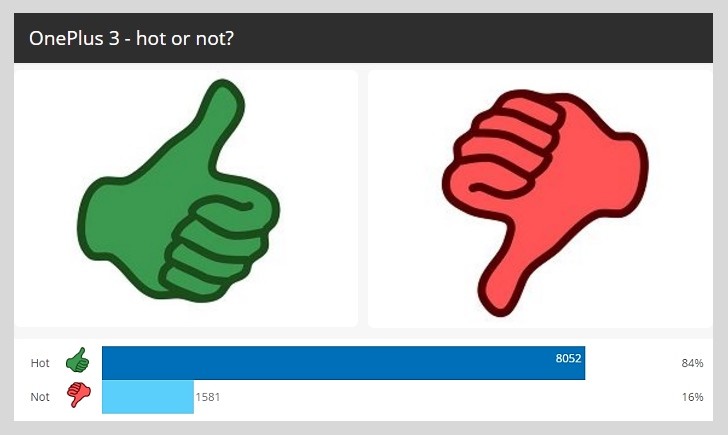 ?
i am an one plus 3 owner. not even six months since i purchased the phone. the product quality is so poor that it made me visit the service center 3 times, those are as follows:- 7/10/16:-b2x newtown kolkata .my device was going into fast boot mode...
N
I have the One Plus 3, excellent phone, excellent battery, excellent charge time, excellent fingerprint scanner, never crashes, and it is just purely amazing. My brother has a Note 7 and my phone, even for more than half the price, can still almost h...
L
I already said not talking about x series