When we caught site of this particular 'Berry, we first thought RIM had just decided to do away with their current design language altogether and hit the market with a new, sharper image. Roll on nearly two months however and the particuliar beast we saw before, turns out to be not so alien after all.
It would appear that this unique Berry is in fact a special member of the Bold Touch family, one which has undergone a little design makeover courtesy of a partnership between RIM and Porsche Design. As you can see Porsche Design haven't made any attempt to tread carefully here, with a bold (no pun intended) look, that must aim to make this BlackBerry stand out from the bunch (pun intended).
Porsche Design themselves are no stranger to mobile phone designs and their whole range of products have a crisp, clean, heavily engineered feel to them, but never before have we seen them flex their creative muscles on a smartphone, especially with a high-profile company like RIM as their partner.
The two known mobile creations to have come out of the Porsche Design house previously, were the Sagem P9521 Porsche and Sagem P9522 Porsche; the former being a clamshell block of brushed metal and the latter being a sophisticated looking bar phone. There was another hint of Porsche Design that stepped into the smartphone world, however this concept came courtesy of industrial designer, André Silva. Still, the concept, dubbed "P' 9530 Smartphone", got people's attention and demonstrated the potential of what a design house such as Porsche Design could achieve if they ever decided to take on an all-screen smartphone brief, such as the one from Silva's designs.
Back to the real deal however, the 'Porsche-Berry'/Knight/9980, depending on which you prefer, is set to launch at a special event on October 27th in Dubai. A media invitation that was sent out, has been making the rounds and emphasises the "exclusive collaboration" between Porsche Design and BlackBerry.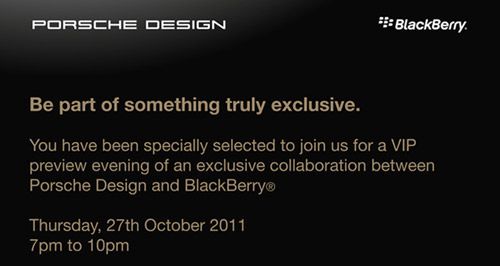 Under the hood this device is effectively the BlackBerry Bold 9900 and as a result we can expect to see a very similar hardware setup, including the 1.2GHz QC8655 processor, a 640x480 resolution display, a 5MP camera unit, 8GB of internal storage and all powering BB OS 7.0 on top. No clues as to whether the 9980 will get a vanilla version of BB OS 7.0 either, or as exclusivity is the name of the game here, whether or not a few Porsche-centric special applications, wallpapers and so on may be included.
There's of course no official statement on when this special blend of Porsche Design and BlackBerry will be available, or for how much, but following its launch event on the 27th, we should have a little more to tell you.
k
infact i fall in love with this phone and i will love to get one i mean if it's the way i see it on youtube can you get back to me pls if it is real one on kassygentle@hotmail.com tell me more if is it china make or what and how much is it and were c...
Z
Porsche have a design team? I thought they just used the same design's that they have had from the 80's.
T
9980, bad design I don't like da keyboard everythin is just wrong about it, they should go back to the drawing board and redesign it, I still like the 9900
ADVERTISEMENTS