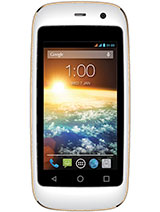 v4
Sudhan S, 18 Sep 2016Is Skype calling available in this phone??all of app android possible on Posh, Skype, line, instergram...
h
vivi, 07 Aug 2016I just bought it for ~53euro(45pound), arrive sicne 2 days. well for me as far as I used it s... morewhere did you buy yours? I am in UK.
v
tazim00, 23 May 2016What's the price in GBP(£)?I just bought it for ~53euro(45pound), arrive sicne 2 days.
well for me as far as I used it satisfy me much.
j1
after seeing this phone reviewed on Unbox Therapy, I decided to try one. for what it is its amazing. yes if you compare it to a modern or even few years old phone, its not great, but when you factor in the size? its rather cool.
I have had mine a few days now, I plan to order the screen protectors next time I order anything. Yes it seems to be the same as the elephone Q, with a few minor differences. when watching a review for the elephone Q I saw some settings that we dont have on the Posh Micro X S240, mostly for screen gestures.
As far as performance goes, its run everything I have thrown at it. Yes even Antutu. it only scroed a 10,000-12,000 (and didnt run the 3d at all)but it still ran. it also ran 3dmark.
I have a Cricket prepaid sim in it, not activated yet though, but have tested the voice quality bu calling into cricket support, while not great, call quality was better than I expected. not to mention the rear speaker is loud for its size. Netflix and Youtube both worked well. They claim the camera has autofocus, I cant confirm that, doesnt seem to work in other camera apps, and with such a tiny screen I cant see if its actually focusing. I know they can make small autofocus cameras, as my Gear 2 has one.
it only has 4gm storage and 512MB system ram, but didnt seem to have issues running an app or 2 at a time. as to the limited storage, you can insert up to a 32GB microSD card in (some have said they got a 64 to work, havent tried yet). the phone lets you decide which to use as the default write disk, so just set it to the SD and you should be ok.
Its running Android 4.4.2, with a odd Launcher, reminds me of iOS, everything is opn the desktop, as you run out of screens, it adds more. worked ok but I installed Nova Launcher. also works well.
All in all I am happy with my purchase, its amazing what they got to work. it has front and rear cameras (2MP rear and 1 MP front) though the system will cheat and say 5.3MP rear and 2MP front lol.
Right now my main use is as a MP3/Streaming Music player, and as a general goofing around thing... not sure I'd rely on it as my main phone, the battery lasts a while on a charge, I get all day out of it with my usage. its only 650mAH. but lasts me all day. but thats with the phone in airplane mode, with wifi turned back on, as well as bluetooth
I know this is just an opinion site, and seems I posted a review, but I had a lot to say in my opinion lol I think its a nice device

one thing, even knowing the size, and seeing the reviews, it was still smaller than I expected. the screen is a bit bigger than the ipod nano 5th gen (I think, the one with the camera)

8
Arc, 21 Apr 2016True, but this device is cheaper, it comes with more accessories and it ships from the US inst... moreWhat's the price in GBP(£)?
u
this phone not a joke, i use it as a dash cam for my car due to it smaller size..
video quality is fine! good for backup phone incase emergency and probably the best if it have a waterproof like go pro case.. so i can fit it on my helmet while riding bike too..
A
Gialu, 16 Apr 2016This is the same phone as the Elephone Q.True, but this device is cheaper, it comes with more accessories and it ships from the US instead of China.
Total of 29 user reviews and opinions for Posh Micro X S240.