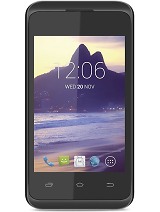 c
Although Posh Mobile lists a MSRP of $80 I cannot imagine anyone paying that much. It is readily available on eBay for under $30. I paid $29.77 for mine, including shipping, and I have seen them for even a little less. The Posh Orion s350 is a dual-SIM GSM phone supporting 4G/HSPA speeds. It runs Android 4.4.2. It's a small phone with a 3.5 inch LCD. The rear camera is pretty decent with 5MP. The front facing camera is 1.3MP but I haven't tested it yet (I don't do selfies or Skype). It has a 1GHz dual-core processor. It comes with one 1,200mAh battery, wall charger e/w cable, earphone/microphone cord, instruction pamphlet and screen protector. The dual SIM capability is important for my travels. One SIM will be a AT&T Prepaid SIM and the other SIM will be my global SIM. I can pick the SIM to use based upon where I am.

The biggest grievance is the phone's memory. It is a pathetic 256Mb RAM of which only a fraction of that is available to the user. Fortunately once you add an SD card, up to 32 gigabytes, the phone resorts to the SD card for most storage. The battery also seems a bit lame. The phones specifications claim a 10-to-380 hour battery life. Although I haven't tested its duration, indications are that ten to twelve hours of my average use may be difficult to obtain - we'll see. Another annoyance is the open-source Android Keyboard (AOSP) that lacks the microphone icon for speech to text entry. I temporarily installed the Google Keyboard but couldn't get its microphone icon to work. I gave up and went back to the AOSP keyboard.

I live in a rural area and Verizon is the only reliable service. AT&T has marginal coverage while T-Mobile and Sprint have no coverage. My primary smartphone is an LG running Android version 4.4.2 CDMA phone on the Verizon network. Consequentially, my new Posh Orion mini blue Model s350a won't work well at my home.

So why, you might ask, would I purchase such an inadequate phone on such a marginal network for where I live. The answer is that I did not buy it for where I live. I purchased it for international travel. For years I have used my travel phone which was in HTC Google Nexus One. It is a 3G only GSM phone running Android version 2.3.7. It was great in its day but is growing inadequate. My motivation was stimulated by some new apps that I want to use while traveling that will not work on the old HTC Google Nexus One. I needed a more modern phone with at least Android 4 installed. Since the new phone is just for travel, I didn't want to spend much money on it and it only needed to run a few critical apps in addition to the ever present email and browser app. Therefore the posh s350 appeared to adequately fill the bill.

When I received the s350 I discovered that the lack of memory was a great hindrance for installing the apps that I wanted. Basically I installed one app and no other apps would install, failing with a lack of memory error. After doing everything I could think of to free up memory (stopping apps, clearing data & cache, etc.), I screwed up the phone to the point that I needed to do a factory reset. Afterwards, I approached app installation in a different and far more successful way.

Installing multiple apps from Google Play was NOT a viable option. I think this was due to the Google Play app taking up some internal memory for execution, downloading the new app into internal memory consumed more, and trying to install and into yet more internal memory. This exhausted internal memory. My successful method was not to install via Google Play but rather to download to SD the APK files for the apps that I wanted and install them to SD manually. This method was very successful and I installed the five apps that I was interested in. The Posh pre-installed apps (browser, email, TXT, etc.) are adequate for all of my other needs.

While the s350 seems well suited for my travel application, I feel it would be very inadequate for most smart phone users. One consumer group who may find it of interest would be economy minded users who had little need for applications beyond those that are pre-installed. Otherwise the phone is fine, adequately fast, decent camera, sharp screen, nice size.

Total of 1 user reviews and opinions for Posh Orion Mini S350.