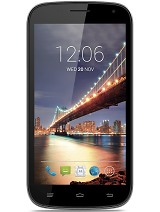 D
This phone... Where to begin? I'll start with a summary.
Price i paid for it: $99.99 before tax.

I've had this phone for about a year now. No hardware failure issues at all, which is good. The screen is of decent size and the camera isn't too bad (although it isn't too good either). To put it simply, this phone is just unreliable. You can forget about doing a task quickly because it takes forever. When i first got it, there was no lag whatsoever, but as time has gone on it has gotten slower and slower. For example, i use this phone to take down my week's work schedule and send it to my parents (i'm 17). If i want to check my schedule, the phone will lag so much that it takes a whole minute to get to it (imagine if your sms app took a minute to load). Even sitting right here, the phone took 2 seconds to load the messaging app and 3 seconds to go back to home. As i said though, it doesn't always lag but those times are rare. Most mainstream apps such as Snapchat, Facebook, Clash of Clans and google chrome, are the worst. One of the worst things i hate about this phone is it's video playback. Specifically it's web video playback. Web videos (such as youtube), even when fully loaded, lag horribly to the point where you can't watch them. Even the data itself is questionable, as snap chat snaps do not load unless you are on wi-fi and anything using data is slowed down due to the connection speed. There is a half second delay for the screen to turn on when the power button is pressed (Again, doesn't sound like much on paper but when you experience it it seems longer) and even then there are many times when the screen takes longer or doesn't turn on at all. I have one of those glowing chargers that you get at Walmart in which the cord lights up, and it is unusable with this phone if you want to use it while charging. The phone's screen calibration goes nuts, and trying to use the screen will result in it registering touches in random areas making even typing impossible. You don't even have to be touching the phone for this to happen (I can leave it sitting by itself on the glowing charger and sometimes it will act as if it's being touched in random parts of the screen). Next, the battery life. Oh, how i wish i could give it a good review. Now, the battery isn't absolutely terrible. Before i had data, it would last about a day and a half i believe. I charge it every night and it starts at 100% MOST mornings (I have had issues with it not charging at all or even dying overnight). With data enabled, i am at 65% with light use and it is mid day right now (12:16 PM). By night time i will probably be at 20% or may even have to charge before then. Forget to charge it over night and you will be screwed as well. Customer service for the phone isn't too great either, there has never been a single update for it as of now, and it's off brand so you can forget about getting it fixed should something internally go wrong, and the only case available is a clear gel case. You would have thought that they would have more available, but no, all you can get is a clear gel case and that's it. Last but not least, the speaker could be louder.

Pros:
- Large, decently bright screen.
- No hardware failure issues.
- The camera quality is OK, flash works perfectly fine.
- It's decently durable, only have a minor half a mm crack from accidentally putting my body weight on it.
- A sleek and slim design, i love the design.
- Dual sim card slots, as well as support for large micro SD cards.
- It's unlocked and works with GSM carriers (I use AT&T).
- Due to it being unlocked you don't get any bloatware, save for the Posh app (where did that disappear to anyway? i can't find it anymore).

Cons:
- Laggy.
- Sometimes unresponsive.
- Pictures at night are unbelievably dark, even with flash.
- Bad accessory options, only 1 available case and no bug fixes or updates.
- No notification lights.
- Vibration is weak.
- Battery could greatly be improved.
- Front facing camera is terrible.
- Main 3 screen control buttons don't light up nor are physical buttons, so they are a pain to see at night.
- The screen messes up when you try using more expensive/powerful chargers.
- Battery must be removed in order to take out the SD card.
- I'd rather have 2 SD card slots than 2 SIM card slots.
- Data service is unreliable.
- Any web browsers have the tendency to thin out text, as if you pressed enter after every letter to go on to the next line.
- Doesn't always charge.
- Speaker is pretty quiet.
- Unlocking screen is delayed which gets annoying.

The bottom line: While this phone is considerably cheap for it's price, it is very unreliable and should be reworked. It has the potential to be a great phone, should the right updates be issued. I don't ask for much from this phone, yet it is terrible laggy and it's battery is weak. If Posh came out with a better battery for it i would definitely buy it. I'm planning on getting a Samsung Galaxy soon, because i like my apps and phone in general to respond instantly. When i get the new phone i will root this one and push it to it's absolute limits.

Would i recommend this phone? No.
D
this phone is not so good, well my wife likes it because it got a 5.0 screen which she like it. but for me the disadvantage are
1. battery life drain down fast
2. camera its 8.0 mp with flash light but doesn't make good photo nor video, the flash isn't workfull either at night.
3. if you like to play huge game, this is not a fit phone for you. its kinda slow and lagg with memory.

Total of 2 user reviews and opinions for Posh Revel S500.