Possible 4.6-inch OnePlus Mini spotted on GFXBench with Snapdragon 810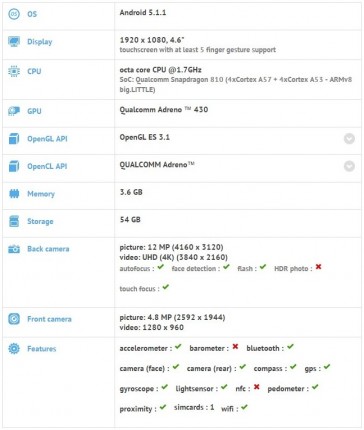 OnePlus might be prepping a third model to expand its portfolio and it looks like it will compete in the mini-flagship category. The info comes from a GFXBench listing, where the specsheet of the OnePlus Mini (for lack of an official model name) has been fully detailed.
You may have thought that OnePlus was done scaling down after the X, but that's not the case, it seems. The Sony Xperia Z5 Compact will finally meet its match, as the alleged OnePlus Mini packs top class hardware in a similarly small package. The OnePlus X wasn't quite a flagship per se, being powered by a year-and-a-half-old Snapdragon 801.
It all starts with a 4.6-inch display, a diagonal familiar from Sony's so far one-of-a-kind offering. Where the OnePlus beats it, is resolution as its Mini comes with a 1080p display, and the Xperia Z5 Compact (as well as the older generations Z3 Compact and Z1 Compact) relies on a 720p unit. It's debatable whether the resulting 479ppi density makes any sense on this diagonal, but we'll stay away from that discussion.
The rest of the innards come straight from OnePlus' current true flagship, the Two. You have the Snapdragon 810 with its octa-core CPU, 4GB of RAM and 64GB of storage. GFXBench lists the camera as 12MP, but we all know that the quoted 4,160 x 3,120 pixels add up to 13MP, so the shooter comes from the big brother too, as does the 5MP front-facer. One important bit remains a mystery and that's battery capacity.
And here we all thought that OnePlus' iPhone 6s case was just a publicity stunt, but it may very well have been a hint at what's to come.
D
Doesn't matter what "your" experience was. For most, sd card is still a valid reason. Be it for music or video, photo back up. More people would back up on their own than online storage. I would rather lose my back up from faulty sd cards than the ri...
Z
I got note 5 at the moment :-) had s6 ( worst Samsung ever), had alpha, had z1 compact, had Motorola razr, had lumia 925, had bb z10 without the need of sd card. Had several other phones without need for sd card. Even older nokias without sd card. Al...
D
Sd cards are 2010?? Why Samsung got popular with sd cards vs non in Iphones? Are u an Isheep or what lol
ADVERTISEMENTS