A rather interesting picture was brought to our attention by a tipper. The shot surfaced on Weibo and shows what appears to be the next generation Mi smartphone by Xiaomi. The Chinese manufacturer is rumored to unveil the Xiaomi Mi5 at CES in a few days, so the leak seems credible enough.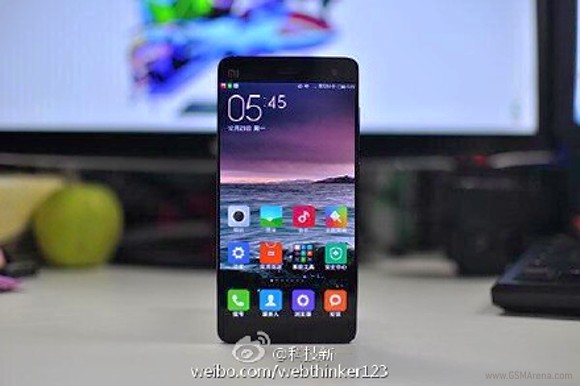 The handset bears a lot of similarity to the Xiaomi Mi5. Design seems to be pretty much the same, the signature MIUI is also clearly visible. This new mystery device does, however, appear to be significantly larger than the 5-inch Mi4. And although scale is hard to judge properly an estimate would put the display firmly in phablet territory - around 5.5 to 5.7 inches.
The alleged Mi5 does appear to have a remarkably thin bezel, significantly thinner than its predecessor. Last month we reported on a set of spy production shots of what was supposedly the screen assembly for the same phone.
Relying solely on visual comparison, they do seem to match up, but the newly leaked photo shows a black device with a lit-up screen, making it nearly impossible to spot the logo and the sensors and speaker position. So a definite match can not be confirmed.
Diving further into the rumor mill reveals some alleged specs for the device. It is said to have 4G LTE connectivity, a QHD display with a Snapdragon 805 SoC and at least 3GB of RAM. While none of the information about the mysterious phone is confirmed and should be taken with a grain of salt we can at least rest easy, knowing that things will definitely clear up very soon, with CES right around the corner.
H
In reply to msg.. It is already available in Pakistan and has been since past 2 years. Am currently using mi3 for past year or so and have been a diehard fan of xiaomi' products. U just have to look harder to find it arond the corner.
D
90 % of android flagship go like this. Don't blame XiaoMi.
M
So you think a better camera, bigger screen, bigger memory, and bigger battery is nothing new? Lol not to mention the super thin bezels and an upgraded processor. Lol
ADVERTISEMENTS