The new iPhone 5 is a tough phone to get. We've already seen what it's like in front of Apple's brick-and-mortar stores, but there's quite the line forming at their virtual stores as well.
Pre-orders started on September 14 and hit 2 million in a day. The iPhones pre-ordered then should ship on September 21, but if you are to pre-order one now you'd be in for a long wait - the Apple Store site warns it will be 3 to 4 weeks before the latest iOS smartphone ships.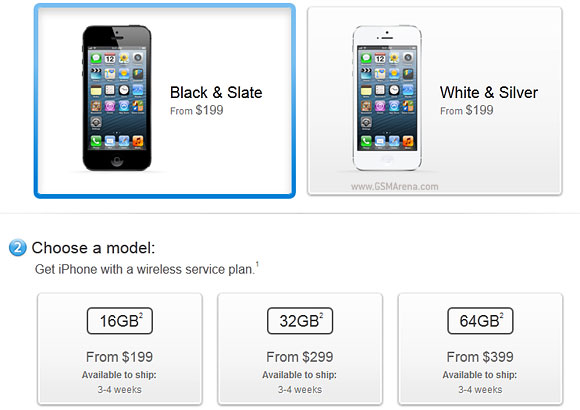 That's for the US store. A quick glance at the Canada store shows the delays there will be the same.
The situation at the UK Apple Store is a bit better. In Britain the iPhone will be dispatched in 2-3 weeks, unless you want the 16GB model in black - that will take 3-4 weeks (that's likely the most popular model).
The German store lists 2-3 week delays for all models and so does the French store. Australians who pre-order now are looking at 3-4 week wait before their new iPhone ships.
M
ALL Propaganda for APPLE, they can easily add every single feature that's available right now but they know they got you guys where they want, they make a new iphone every year, add 1 little thing and they know people will PEE-PEE there Panties just ...
f
I admit iphone are nice products but since somebody stole my iphone last month, I got a Samsung S3 instead of waiting for the iphone5. and its like somebody opened my eyes to the real world. bigger, better screen, faster, more control, free to load...
?
what the iphone 5 should've been. 4.5 inch 720p screen 1.5 quad core micro sd card slot removable battery 12 mp camera with optical stability. but at apples pace I should get this in iphone 7. so I just got the samsung galaxy S3 instea...
ADVERTISEMENTS