Thanks to a Romanian retailer, which sent a couple of photos to the Romanian publication Mobilissimo.ro, we get our first glimpse of what seems to be a press photo of one of Rumorland's prime citizens, the Apple iPhone 5C.
The photo shows the white plastic device with Apple's iOS 7 running up front. There are also a couple of pictures of a dummy iPhone 5C wearing a bumper case - the dummy is supposed to keep the seat of the real device in the retailer's store warm until the real-deal gets there.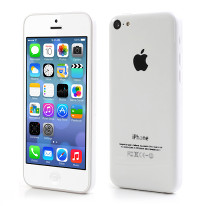 Alleged press shot of iPhone 5C (click to expand)
We've already seen the iPhone 5C's case a number of times in high resolution, and in the wild.
If the Apple iPhone 5C is real it's supposed to replace the iPhone 5 in Apple's lineup and is rumored to go on sale alongside the next flagship, iPhone 5S, on September 20.
We'll have to wait and see as this would be an unexpected step from Apple - first by releasing two iPhone's, second by making a dedicated cheaper iPhone (instead of discounting its previous flagship) and third by going back to its plastic roots (the iPhone 3G and 3GS spring to mind).
Thanks, Marecl for the tip!
P
Apple iphone 5c will be an affordable one to purchase for middle-range persons like me. So no matter how the body was built up, only its perfomance will speak up.
M
I guess Iphone5S is still made from quality material. So we will buy 5S and not low budget devices.
r
its not a flagship like plastic s4, dummy.. who cares from what mid range models are from..jesus, grow up!
ADVERTISEMENTS