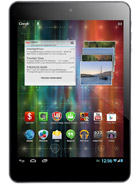 ?
I have a problem with the speakers. From time to time they start buzzing loudly.
D
By far one of the best tablets for its price range the specs go above an beyond other tablets around the same price and the screen is better than many higher priced tablets including the ipad 2, hardware wise its quad core 1.6GHZ CPU handles everything you'd ever use on a tablet even some you wont (game & OS emulation) its smooth graphics rival that of a mid range desktop pc thanks to it also having a quad core GPU it plays HD movies in beautiful clarity. Ok so there are a few down sides to this kit as one might expect like the built in strorge only 8 gb shared "comon guys dont be mean" only 1GB DDR3 RAM realy do let this tablet down a little but with a decent micro SD card you can move your apps an with a few apps ive tested you can really make the most out of that meesly 1GB of ram. Overall the pros by far more than make up for the cons
o
Bought this tablet few days ago and I'm pretty satisfied with it! Excellent choice, my true recommendations!

Pros: performance, *display, design quality, **camera
Cons: battery life, UI isn't really looking as it should in jelly bean 4.2.2

*pixel density could be a little higher
**isn't spectacular but does most of the job
D
AnonD-123501, 10 Dec 2013Cool pad. Excellent design and build quality, very good performance. Great value for money! Q... moreI get about 10 hours general use. Web browsing, youtube, music and the odd .mp4 file!
D
In my honest opinion I think this tablet is great. Considering its very low price you get a pretty decent spec tablet with a nice premium body. Although the first thing people say is the screen resolution is too low, it is decent enough especially for smaller screen, viewing angles are great and it is lovely bright\clear.

Pros
Price. I got mine for 139€ very favourable to my wallet
Look. It is very nice looking with sturdy back and very simple look. Everyone I know who has seen says it is very nice.
Performance. Although I expected more for the quad core A9 it runs 4.2.2 fine and generally very smooth and cool, but get past 2\3 apps running in background can cause video problems and a general lag, I just close them when I'm finished.
Software. Android 4.2.2 aosp i.n.f 4.4. Not much bloatware.

Cons
Weight. Its not that heavy but when compared to other tab made with plastics it seems a little more uncomftable holding long periods. But not like a brick just by comparison. Having an aluminium back makes it feel bold and tough.
Cameras. They are not the best. Rear is OK and can take decent pics but they are low res. So don't expect to stretch them out too much. Front is OK for Skype calling colours seem a bit off but I did not get the tablet for photography my phone is for that and sync via drop box.
Keyboard. I personally didn't like so installed Google keyboard and turned off the predictive list that pops up above keyboard. Very nice in both portrait and landscape mode.
Video. Default video app is not that good I suggest MXplayer it loves the proccesor and 1080p videos play much smoother.
Screen. The screen is great but the glass is not very good it picks up finger prints like nobodies business! I'm going to try and find a screen guard with fingerprint resistance and see how it is.

Other
Accessories. I have not found much which is shame, but a universal cover should be fine, and screen protectors are out there just need to use Google!

If you are looking for a budget tablet I would definitely suggest this one especially with the confirmation of a software update unlike some leading brands. You usually get what you pay for but at that price of 139€ you get a lot more!




D
Cool pad. Excellent design and build quality, very good performance. Great value for money!
Q:How long does the battery last for you?
For me 5-6 hours with heavy usage. All time wifi on, surfing and youtube, gaming. In my opinion that's good performsnce.
?
I have it 1 month an I am pleased with it. All programs are running nice ....i love design of this Prestigio..nice tablet
Total of 29 user reviews and opinions for Prestigio Multipad 4 Quantum 7.85.