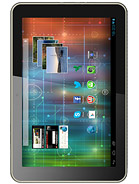 J
Slow, slow, slow. It lags even on homescreen with nothing in it, best use is as a gift for somebody you hate, or your grandma.

Found it at home and decided to at least use it as a book reader, right? Well, it's completely useless in portrait mode because the TFT display makes your eyes hurt, it's very heavy and the audio is medicore at best.

I would recommend ditching this and getting a book, the paper kind.
f
my prestig is grity and even though i have fast wifi its really lagy!
D
It doesn't tell you how to work it and how to connect your gmail to download apps. It should also provide you with a micro sd card. We are all not experts!!!
?
Why i cant download any application even if i insert sd card i cant see how much memory i have on tablet just showing memory card memory

r
I never had problems able to Skype my children who r abroad which is good I like it and I am of a certain age where technology is meant to confuse us
d
M, 03 Sep 2013Horrible screen quality. Sharp, yet speckly and grainy, especially the whites, which makes rea... moreWhen i`m playing gta san andreas or need for speed most wanted on my prestigio multipad battery takes no longer then 2 hours....Its that normal?Sorry for my bad english!!!
Total of 8 user reviews and opinions for Prestigio MultiPad 8.0 HD.