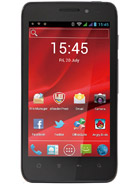 ?
Wtf, IPS LCD capacitive touchscreen?! This specification is wrong, A5 always had Super AMOLED!
D
Anonymous, 03 May 2015Absolute Garbage. Starts lagging after a month or two. So all performance rapidly degrades ... moreSomething is telling me you are comparing a low/mid class phone with a price of a low end phone with an iPhone 6 plus.Then exaggerate a bit so people won't tell you that you are wrong.

Well, considering how much the phone cost me, it would have been cheaper to buy a new one every 3 months then to buy a new iPhone 6. And it sure as heck did not give up on me at the 3 month mark.
?
Absolute Garbage.

Starts lagging after a month or two. So all performance rapidly degrades over time. Never buy
Prestigio item. Ever.
?
The best phone I've ever had....
I'm sad because i sold it for very low price :(

2013-2015
***Dear friend, ur missing me...***
?
i cannot take a pic then send by text it simply doesnt send ,i have a strong signal on phone but this is getting annoying
N
This phone is great. I have it for a year and it's perfect for it's price. If you wanna some super huge memory and many cores find another one. Calls, SMS, MMS, GPS, Internet, Games, Apps, everything works slightly. Someone said it has cheap plastic. OK, but I had Samsung Mini 2 and Samsung mini 3, and the plastic is more cheaper on those Samsung models, cause sometimes back plastic was openening too easy and you can loose it.
This phone has great performances for it's price.
?
The phone is great. Great screen. Touch works perfect, Gps with a-gps also. It has enough memory for common use. If you want to use a huge amoun of memory than you need another phone. It is speed enough. Games works great. Camera is very good. It has 8mp not 5mp, better for you. Case is plastic, but many samsung phones re also, so I don't see problem with that. Dual sim is perfect. I'm very satisfied with this phone.
Total of 9 user reviews and opinions for Prestigio MultiPhone 4300 Duo.