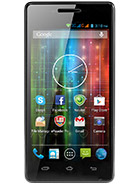 k
Screen does not respond properly. To edit things or write, the keyboard goes not come up. When it does it goes very quickly before you have finished and won't return. Sometimes only manage one letter before it goes... If tap screen several times hoping to restore keyboard,screen just magnifies. Will not keep 'wallpaper' and changes itself. Drives me nuts. Would not recommend. First experience of smart phone. Will go back to keypad type.
D
I have my main sim card also another 1 both have the internet on them but when outside I cant not recieve it on neither of sim cards can u plz help me as I rely on internet outside
G
This phone looks really good, BUT it performs very bad. First, the top of the touch screen is not functioning as with other phones, there's this area of 1 cm that can't register touch for longer than 0,5 secs. So if you press on top of your screen, the touch function will stop. Good luck with moving icons and widgets from the top of the screen. Tried to return the phone, but 6 other phones in the store and my friend's phone has the same issue. So, forget about gaming with this phone, not impossible, but horrible. Second, the LAG! After installing Viber, FB messenger and antivirus, the phone just keeps lagging, games are struggling to work, and RAM memory is always over 90% used. If so, SD card stops responding. You'll need to restart your phone daily, than hourly, after that, when ever you start an app. 512 MB ram is just not enough. Third, screen is not that good. It's large, nice to see, but take it outside on sunny day, you won't see s**t. If you btw try to show a video or picture to your friends, make sure they are at 90° in front of your screen because if you turn your screen a bit to any side, nobody won't be able to see s**t, again. There are good sides of this phone, ability to transfer apps to SD card (but when it stops responding you'll need to restart), loud speaker, 2 sim cards... But there are these things that salesman won't tell you about it, so watch out if you wanna buy this phone. I recommend DON'T because you'll get rid of it after few months, as I did.
s
how do you get into the ringtones screen please?
D
Which 3G SIM card goes where top or bottom off the sim slots
h
please type the sar level .
thank
?
Cheap dual sim android phone however if you dont need dual sim the moto g is much better. Also seems to be loaded with installer prestigio nagware that you cant stop or uninstall.
m
how do I change the power up and off sounds

k
good phone at affordable price:)
Total of 32 user reviews and opinions for Prestigio MultiPhone 5450 Duo.
ADVERTISEMENTS