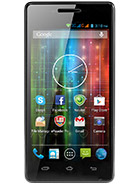 5
I am very happy with the phone, I use it for 2 years now. Hardware works well, makes good pictures. Minus is the lack magnetic sensor.
p
I have been using this phone. Actually, I CAN'T use it. Cause it is so slowly. Page doesn't open. Screen stops to working. I could NOT UPDATE it. And I live in Turkey. IN TURKEY THERE IS NOT A SERVICE OF THAT PHONE!!!
g
Due to I had PAP 4300 and I really liked it I bought this phone but it's not good phone.. After only one week I had to send it on service because it had some problems with motherboard. After that I changed it immediately... Prestigio did good job with first mobile phones but after that .....
Total of 3 user reviews and opinions for Prestigio MultiPhone 5451 Duo.