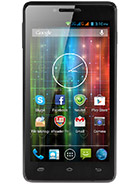 ?
i have looked all other the internet for a screen and cannot find one so went to the site and phoned up asked where to send it to they said they would send the address in an email and nether received the email i am going to try again.
m
the charging is too bad for me . 10 hours time to charging full. any body have idea about this ?

m
I have it.as a matter of fact,prestigio is very useful and i really love it.after all,you can choose.
?
my wife bought me this multiphone and its the best present I have ever had tremendous
j
Cant seem to get video call is anyone or hands free when driving plus there is nodirection book with it
p

I am using prestigio mobile in (c.g.) India last four month its vary good , Last few days I am facing some problem in phone. Please suggest me where is services is provide
D
It is overall good, but the camera seems weaker than what I thought. The performance speed is generally medium-low, but it doesn't annoy you so much. Beautiful design
?
I can not get mobile data not sure why talk talk said it is all set up to talk to the prestigio rang them the lady could not help took my number to speak to some and ring me back but did not still have to pay for the package wish I new more about the phone before I brought it will ring QC where I got the phone to see if they can help
C
verry low ram .... about phone .... design ok ... display ok ...camera good ... but .... low ram :(
Total of 34 user reviews and opinions for Prestigio MultiPhone 5500 Duo.