It's odd for the US to get a Nokia phone before Europe, but it happens. Such is the case with the previously unseen Nokia E73 Mode, the successor to the E72 throne. It's coming to T-Mobile USA, bringing the traditional Symbian and QWERTY combo.
The Nokia E73 Mode, leaked in the form of internal-use-only slides. The slides don't reveal much - the looks of the phone, which is instantly recognizable as an E7x device, and that it will have the Work and Life homescreens - so S60 3rd edition is the most likely OS.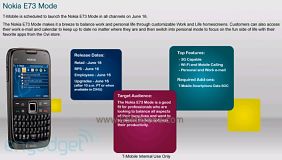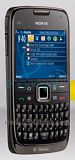 The Nokia E73 for T-Mobile USA
The E73 will have 3G connectivity and Wi-Fi, plus Ovi Store integration, but those were obvious specs. The Nokia E73 Mode is slated to hit all T-Mobile retail channels on June 16 - less than a month from now.
Another thing that's odd is that the Nokia E73 Mode uses the old numbering scheme and most new handsets from the Finnish manufacturer use the new scheme (safe for low-end models). The E73 Mode will almost certainly top the Nokia E5 specs, which are mostly identical to those of Nokia E72, so why not call it the E7 instead?
?
simple, some people don't care what OS is running on the phone as long as it works...
i
i agree no dual sim, failure again and this goes to all non dual sim phone and not only to this phone. but then again, why would dual sim be an indication of failure if the phone can deliver calls, data connection, multimedia functions, i'll leave th...
i
hmmm, i would get this since it works on T-Mobile US 3G band unlike E72
ADVERTISEMENTS