Prime Exclusive deals: $30 off on Nokia 6, LG G6+ to get $50 price cut
Amazon is offering decent deals on some of its Prime Exclusive phones. To start off, the Nokia 6 is currently going for $149.99, which is down $30 from its usual price.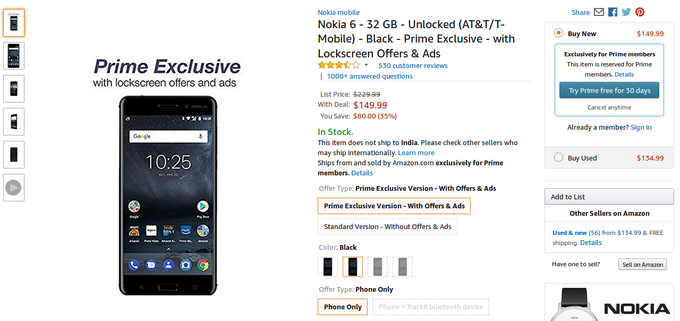 Moving on, you can also save money on the Prime Exclusive LG G6+, which will be up for grabs for $449.99 ($50 off). The deal will go live December 17, and will end December 23.
But before that, starting December 10, you'll be available to avail several other deals as well, involving handsets like the Motorola Moto G5 Plus, Moto X4, LG X Charge, and Q6, with discounts up to $50.
D
I think the bezel-free look on phones is tacky. My favorite phone design is probably the Galaxy S6 and the iPhone SE.
?
Hahha look at those bzels. They look so goofy. Wrong year to release it nokia.