Pro versions of iPhone 13 (or 12s) rumored to feature 1 TB of storage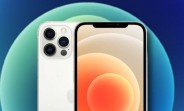 Apple is reportedly working on 1TB versions of the upcoming iPhone 13 – actually, the iPhone 12S, says leakster Jon Prosser. Current Apple phones top out at 512GB, have done so since the XS generation from 2018.
The new model is still very much in the prototype stage of development. And some prototypes of the Pro models have 1 TB of memory built in – the cap for the vanilla models is, as usual, lower.
Storage aside, Prosser quotes a source who stated that the iPhone 12S/13 will have a smaller notch – but not that this means smaller height, not smaller width as you may have hoped (fair warning: we heard the "small notch" rumors last year too, but those didn't pan out).
There's no mention of a potential in-display fingerprint reader, though current rumors say that Apple will keep Face ID even if it does add a reader, which is why the notch is here to stay.
The video starts off with coverage of AirTags, the elusive tracking fobs that Apple is yet to unveil. Recently, various keychains and other accessories for the Tags started appearing on online retailers. Some are apparently based on an Apple reference design, others go their own way. Anyway, the iPhone stuff starts around 8 minutes in.
S
Imagine having a notch in 2021 wtf apple and I know that when under-screen fingerprint sensors or 120hz displays come to the new iPhones people will think that apple is sooo innovative
ADVERTISEMENTS