Project Tango phone, Lenovo Phab 2 Pro is hitting the US on November 1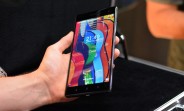 Last month, we reported about Lenovo's upcoming phablet the Phab 2 Pro, which is the first smartphone to showcase Google's Project Tango. Tango was Google's conception that allows hardware to detect its own location in 3 dimensions by using advanced infrared sensors.
The Lenovo Phab 2 Pro is now showing on Lenovo's US website under the Phab 2's product page as "Coming Soon. Available November 1."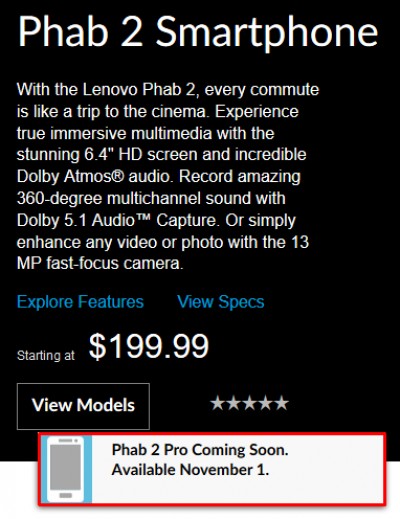 The Phab 2 Pro was originally intended to be released in the US this summer, however unforeseen circumstances caused Lenovo to delay the launch of the smartphone, likely due to the nature of Project Tango, which is a brand-new technology. The new release period was changed to "fall", which coincides with the company's new release date of November 1. The phone is already well on sale in Asian markets where Lenovo phones are sold. The Phab 2 Pro is expected to be sold in Best Buy Retail stores as well.
The Phab 2 Pro will run $499 in the US and sport a "really" huge QHD screen, 16MP camera, 64GB of internal storage and 4GB of RAM, and It's powered by a Qualcomm Snapdragon 652. A phone with a screen of this size needs a large battery to go with it. The Phab 2 Pro has a 4,050mAh battery.
?
Yes, it can dance tango. It's "hitting the US today", and you can dance as soon as January, when they finally deliver your paper launched preorder.
?
When will lenovo release foldable phablets?
D
And it's running 6.0. For a phone featured by Google themselves, it is embarrassing tat it is not even running the latest OS that's already out before this phone will ship.