Now, here's a handset that's keen on sports - the PUMA PHONE. This gadget loves it outdoors and doubles as a sport tool (e.g. a bike speedo). The PUMA phone thinks green with a solar panel on the back and an eco friendly box.
PUMA posted a teaser site a few days back that caught our attention. The curtain's now been lifted. The PUMA PHONE was developed by PUMA and Sagem (haven't heard that name in a while, have you?). It's very nature friendly and will help you get back into shape too.
Let's see what we're dealing with - the PUMA PHONE measures 102 x 56 x 13 mm and weighs 115 grams, which is great because you can't run with a huge slab of a phone. On the front, there's a 2.8" QVGA touchscreen, and on the back - a 3.2MP camera with LED flash and a solar panel with charge indicator. Overall, the specs are very reminiscent of the Samsung S7550 Blue Earth.
We already mentioned the bike speedo, but there's a run tracker too (both use the GPS receiver), a pedometer and even a sailing compass. The PUMA PHONE also packs a music player, an FM radio and a stopwatch, which are essential to any work-out.
Icon messaging and video calling will keep you in touch and there's a scratching turntable app, just for the fun of it. It's the "sarcastic calculator" that caught our attention though - that and the "on-demand digital cat". The cat is named Dylan by the way.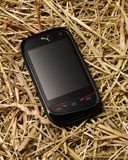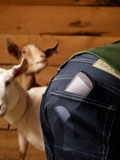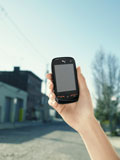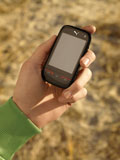 The PUMA PHONE in it's habitat. Watch out goat, there's a puma behind you!
Back to the specs (or as PUMA call them, the "geeky" and "extra" stuff), the PUMA PHONE has 7.2 Mbps HSDPA and 2.9 Mbps HSUPA, a 880 mAh Li-Ion battery that's good for 350 hours of standby and 5 hours of talk time and 24 hours of music playback.
The connectivity is rounded off by Bluetooth 2.1 with EDR, a 3.5mm audio jack, microUSB port, A-GPS support and a microSD card slot.
The UI on the PUMA phone is based on a carousel and aggregates media content services and pulls live sports feeds.
Check out our live photos and hands-on impressions here.
The PUMA PHONE will be available from operators in greater Europe and online on the PUMA store starting April 2010. Saving that 400 euros already?
w
Now as a man that success or loser all have to get one Wrist Watch to embody yourself glamour. This Watch For Men is sepecial for gentleman, so if you heart have touched, please don't hesitate!!
S
Nice! Not like all the iPhones in the world, really independent. Dynamic design with an innivative interface and the solarpanel really up to date! Brilliant !!
ADVERTISEMENTS