AdDuplex has diligently updated its Windows Phone device statistics with fresh data up to June 23. Usually, the company's numbers are pretty informative by themselves, but this time, the last page of the report lists two unknown Microsoft devices that the ad network has stumbled upon in its extensive logs. These could very well be the Lumia 940 and 940XL, which have been a constant presence in the rumor mill for a few months now.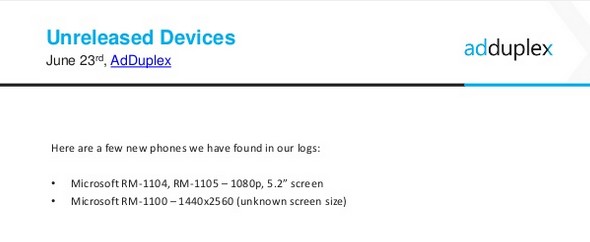 Both devices have been shrouded with a lot of mystery, ranging from camera resolution - firs cited as 25MP and later bumped down to 20MP, all the way to a USB Type C connector, a triple-LED flash and even an iris scanner. At this point, it is really hard to actually distinguish plausible from pure storytelling, but most previous rumors do seem to agree that the Lumia 940 will come with a 5.2-inch FullHD display, while its sibling, the 940XL - with a 5.7-inch QHD one.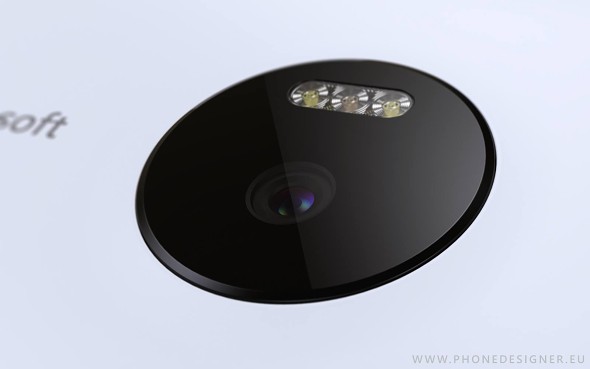 This coincides perfectly with the new AdDuplex information and could thus be definitive proof that a Quad-HD Windows 10 phone is finally on its way. There is, however, a slight misalignment in alleged model numbers. Previously we have heard that the Lumia 940 will bear the RM-1106 number, whereas, in the log at hand, it is listed as RM-1104, RM-1105. But even if the unknown devices, logged by AdDuplex, don't turn out to be the eagerly-anticipated Lumia 940 pair, we still have the QHD resolution to look forward to, regardless of the device's actual model.
As for the statistics in the company's report, the general trends are mostly unchanged from a month ago. The Lumia 520 is still holding first place in popularity and still giving way to the newer 535 and 635 models. Also, as predicted, the Windows Phone 8.1 adoption rate has risen an additional 2.5% at the expense of WP 8.0 and WP 7.1. And officially now one in every 40 people is using the preview version of Windows 10 Mobile. You can browse through the rest of the stats below, including localized information for a few markets.
?
well the old flagships supported 128gb. so should expect the same
D
To each his own in terms of preference but saying Android is less stable is a myth.. you can read articles fro m many sites incuding tech times where they say in testing Android has less app crashes than the latest iOS... Also last I checked iOS...
?
How many GB does micro SD card slot supported in this flagship phone. It's very very important for my profession.
ADVERTISEMENTS