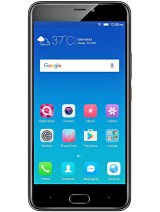 S
Very nice and beautiful phone from all aspects in this range speedy lack of mediatek is fullfilled by 4 gb ram
K
Z, 21 Aug 2017A sincere advise to everyone still looking for so expensive qmobile Noir A1 should quickly goo... moreBut not available in Pak .
Buying it online from china will take to much time ..
m1
Qmobile A1 is Pakistani version of Gionee A1. However, Gionee made a slight change in that this cell is equipped with LCD screen instead of an LED one for Gionee A1.
In Pakistan, this cell is priced at (3 Oct 17) 170 Euros (PKR 21,500/-). In this price range, it is delivering a 4 GB RAM / 64 GB ROM with excellent cameras. Its main rival in Xiaomi Redmi Note 4 having 4 GB RAM / 64 GB ROM but only 5 MP selfie camera against 16 MP / f 2.0 sensor for A1. However, Redmi Note 4 is equipped with a better snapdragon processor. A detailed review from gsmarena team will be appreciated.
1
Khan6, 01 Oct 2017Which one will be better to buy q mobile m6 or q mobile A1Bhai Qmobile A1 is better option. Main reasons are:
1) andoid 7.0 vs android 6.0
2) 16 MP f/2.0 selfie camera vs 8 MP f/2.2
On the other hand M6 has following advantages:
1) LED display vs LCD display
2) 5000 mAh battery vs 4000 maH

Still, A1 is cheaper and its display is rated good in various reviews. And selfie camera should not be compromised.
m
I'm using this phone a1 from 5 days it's a good phone performance is impressive.

?
I have bought it 3-4 days ago and up till now satisfied. see what next
U
Excellent phone. I was very reluctant to buy Qmobile due to bad word of mouth, but i am really very impressed by its performance. Finger sensor is just amazing. I will recommend it for sure for all those having mid range but want an outclass phone.
Z
A sincere advise to everyone still looking for so expensive qmobile Noir A1 should quickly google 2 sets (1) doogee mix (2) doogee mix plus where the plus version ia similar to the latest samsung galaxy s8 in cheap price. Once you have seen both these sets from doogee, you will not pay anything more than 10K for any qmobile set. Doogee mix plus will be launched soon with a price tag of under 20K including shipping cost.
Total of 10 user reviews and opinions for QMobile Noir A1.