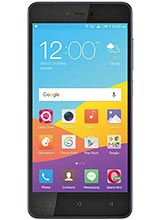 K
Sheraz, 21 Mar 2017My 4g works perfect on zong and warid I am using Zong 4G and one time i get 50Mbps and usually it is around 30+- Mbps which is good. Please consult with Qmobile center or check the settings >>more>>Cellular networks>>Preferred Network Type and select 4G/3G/2G (Auto) after that test the speed on Speed test and share the results.
K
I shifted form iPhone6 to QmobileLT700pro and i am using it for about 10 months, i can witness it is best phone due to its multiple features like 3GB RAM, 4G supported with hotspot, extended Data storage, glossy screen, good battery and many more time with this reasonable price. No hanging issue, Picture quality is good. User can enjoy costly mobile features within small budget.

i
i am using Lt700 pro for last 10 months overall performance is good. fast smooth, don't see any hanging problem , battery timing is super, camera quality is good. best mobile i ever used in this budget
a
carbon copy of iphone s6s or s7s. (shape wise). mind blowing performance. excellent. good budget phone. asim lahore

B
Excellent phone in this budget. Picture quality is awesome & processing speed is very good. Navigation between screens are very smooth (multitouch). Battery timings is reasonable. All type of connectivity is very good. Very good phone for a normal user. Beautiful handset with 3Gb RAM and 16Gb of internal storage. Screen size is standard 5" edges are curved. Very light weight. Accessories including with the phone are also good.
S
Asmat, 14 Feb 2017set is very good. but the 4G option does not work... so weak in LTE. if you replace your sim i... moreMy 4g works perfect on zong and warid
M
Its fantastic Fun speed is very good and also shape is slim.so i am happy for using LT700 Pro

A
set is very good. but the 4G option does not work... so weak in LTE. if you replace your sim in 4G sim. but it does not work
D
This phone is very good in speed, shape, screen, camera, gaming, battery, multi-tasking, battery charging interval, 3G/4G/Wifi Speed and last but not the least, its android 6 interface is very beautiful attractive and easy to use. And all these things at very low price. I am using this phone since last 1 month and I am very much satisfied with this phone.
t
today i comparison between j5 16 vs lt 700 3gb ram.both are same in funtion .and lt 700 speed is better than j5 16 .internet and signal strengh is better than j5 16 except camera.camera of j5 16 is better only
p
Zohaib Hassan, 12 Oct 2016i am using this mobile and so happy for this mobile function. no good mobile...made in pakistan...no gyroscope.... very very slow...too bad!!!
Total of 15 user reviews and opinions for QMobile Noir LT700 Pro.