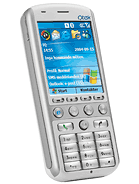 O
Hi!
Qtek is made by the company HTC. Qtek 8100 is a "Music phone" and it has some extra buttons. Play, paus....
You can find more information aboute this phone on Qtek:s webpage. www.Qtek.se
/Oskar
T
This is martked as the Orange SPV C550 and according to there website it does have a 1.3mp camera onboard.
m
pls i would like u people,to improve on camera.vga is old sturf make phones with mega pixel then no other phones can match ur product which i still rate number on in the whole world.
u
in the uk on orange they are claiming it has a mega pixel camera and 256 tft screen.

anyone with clear spec, please post

thanks


A
When I saw this phone for the first time, I thought I was to puke. But after some looking at it, I think it looks great!

So, the camera sucks? Then buy a megapixel cameraphone.
S
I think this device could have a high ratings im Moscow...our pleple like performance,style and Qtek 8100 can satisfy them! :)
b
this fone is really one of the best in the galaxy... a gadget that Darth Vader should have..
Total of 34 user reviews and opinions for Qtek 8100.