Software and features
Samsung, HTC, LG and Meizu have left the world of vanilla Android behind them and gone for a customized interface with Ice Cream Sandwich left hiding underneath. Nothing is left to chance here, and all manufacturers have stuffed the stock Android OS with as many features as they could before the launch dates of their devices.
As is often the case with Android, version 4.1 Jelly Bean got announced a couple of months after the flagships came to market. However, given their positions as the kings of their respective lineups, it's not really a question of if these flagships will get the Jelly Bean update, but when.
Nevertheless, even without Jelly Bean and its Project Butter, Android performs outstandingly on all four devices. No surprise here, considering all the horsepower being thrown around.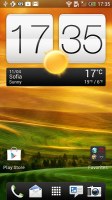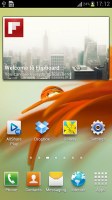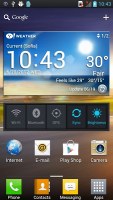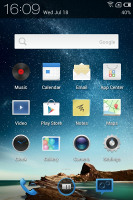 Back in our Galaxy S III vs. One X comparison, we examined the highly customized TouchWiz and Sense 4.0 user interfaces. Both of them have received a couple of software updates since their launch, but nothing major has really changed.
HTC's Sense UI is still the most eye-catching and great to look, while TouchWiz on the Galaxy S III packs more features than the International Space Station. It's really a Swiss army knife with a touchscreen.
Naturally, Sense UI is able to match TouchWiz in key features supported. For example, both have the Apt-X audio codec for high-quality stereo sound over Bluetooth, burst shot camera modes, HDR and the ability to simultaneously take photos while shooting video. Both even sport wireless HDMI connectivity (Samsung AllShare Cast & HTC Media Link HD).
However, we can't really ignore the TouchWiz features that go the extra mile, such as S Voice (competitor to Apple's Siri), S Beam (NFC-based media sharing), Pop-up play and Buddy photo share. And while those aren't living up to their full potential yet, features like Smart Stay and Direct call put TouchWiz in a league of its own.
Moving on we to the Optimus 4X HD we find that LG has also done a great job with their Optimus UI 3.0. The Koreans have eased off on the customizations and gone for more subtle yet useful changes to Android. More often than on any of its competitors, you'll see design elements from vanilla Ice Cream Sandwich and that's not a bad thing in our book.
And despite the few UI changes, there are some nice little touches that make this another great UI skin and give you an enjoyable experience. There are also a ton of nifty shortcuts, which are a real time saver once you get the hang of them.
On the other hand, the Meizu MX 4-core takes a different approach to Android altogether. It's running Flyme OS 1.0.1, which is based on Ice Cream Sandwich but doesn't look anything like Android. In fact, its designed and navigation is rather reminiscent of Apple's iOS.
At a first glance, the Flyme OS is nothing more than a flat interface with a bunch of home screens populated with icons. There's no app drawer or shortcuts, and all application icons are put on the home screens, iPhone style.
While you can easily replace Samsung's TouchWiz, HTC's Sense and LG's Optimus UI with any custom launcher, that's not the case with Meizu's Flyme. It's so deeply baked into Android that it takes some deep tinkering to achieve any form of outside customization.
On the up side, Meizu has cooked up a pretty elaborate lock screen, and an excellent task manager and notification center. Seasoned Android users will need a minute to familiarize themselves with the odd interface, but once you get used to it, it's a breeze to work with.
Sadly, Flyme OS is the least functional of all the involved launchers. The flat UI limits your customization options, there are way fewer widgets and even some of the native Android features had to be axed. However if you are looking to get an iOS-like experience combined with (most of) the freedom provided by Android, it seems like a great choice.
In the end picking up the best UI is strictly a matter of personal preference. There are differences of course, but it's up to you to decide which one suits your usage patterns best. What's important here is that all of them run extremely well on their respective smartphones and won't ever invoke memory of the old, laggy Android days.
That said, let's jump straight in to what you all came to see - performance comparisons between Samsung's Exynos Quad and Nvidia's Tegra 3 chipsets.