Qualcomm has taken the stage at CES 2017 and another staple in the smartphone industry has been announced. Aimed to succeed the Snapdragon 820, Qualcomm has announced the Snapdragon 835. It will be the first Qualcomm-made SoC that is commercially produced using the 10nm FinFET process. The Snapdragon 835 is built with VR in mind, as well as the ability to run mobile computing systems with full Windows 10 support.
The new chip uses the same Kryo CPU architecture that was found in the Snapdragon 82X, though with Kryo 280, there will be 4 additional cores that focus on running efficiently on top of the 4 performance cores that are clocked up to 2.45GHz. By contrast, the other more efficient cores will be clocked up to 1.9GHz. In addition, the 835 is about 35% smaller in size and consumes 25% less power which translates to better battery life, in theory.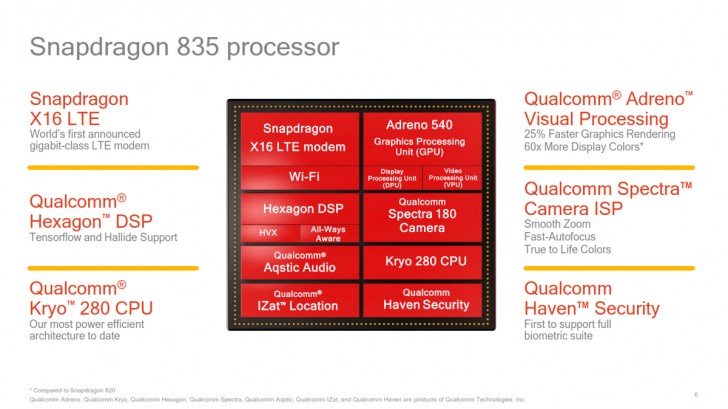 In the graphics department, the Adreno 530 is succeeded by the Adreno 540 GPU, which supports OpenGL ES 3.2, OpenCL 2.0, Vulkan's API, and DirectX 12. All of these supported graphics ensure a high-performing graphics experience for mobile games and VR/AR alike.
The Snapdragon 835 will see around a 25% increase in graphic performance and will support 4K (UHD) video recording at 30fps with 60fps, 4K playback. The 835 will also officially support Google's Daydream VR platform. Image processing is also improved with the Snapdragon 835 which would let phone makers build devices with cameras of up to 32GMP in resolution, or dual 16MP cameras.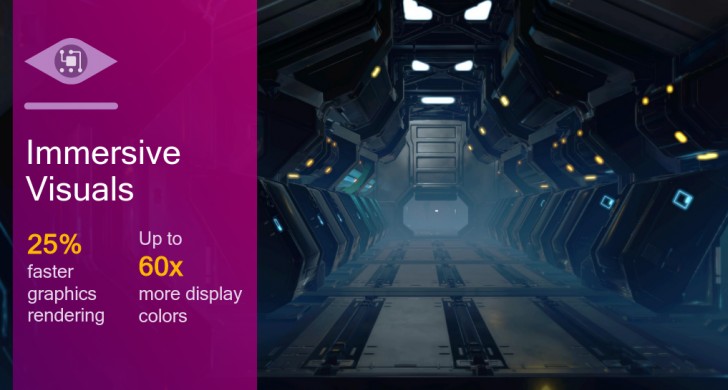 A number of security features will be baked into the Snapdragon 835 and the company calls it the "Qualcomm Haven Security Platform". Essentially, biometric security (authentication via fingerprint or iris scan) has been improved by supporting authentication from a hardware standpoint.
The X16 LTE modem also makes its debut on the Snapdragon 835. Support for Cat. 16 download speeds (1 Gbps, theoretical) and Cat. 13 upload speeds (150 Mbps, theoretical) are also here. Likewise, the 835 is the first commercial chip that is officially certified for Bluetooth 5.0 with peak transfer speeds of up to 2 Mbps.
Quick Charge 4.0 also made its debut and the Quick Charging technology will be about 20% faster and up to 30% more efficient than Quick Charge 3.0. There's no word on whether Quick Charge 3.0 and 4.0 will be backwards compatible with each other. One good thing about QC 4 is that it will support USB-C Power Delivery. Without a proper USB-C charging standard, this was perfect timing for the new standard.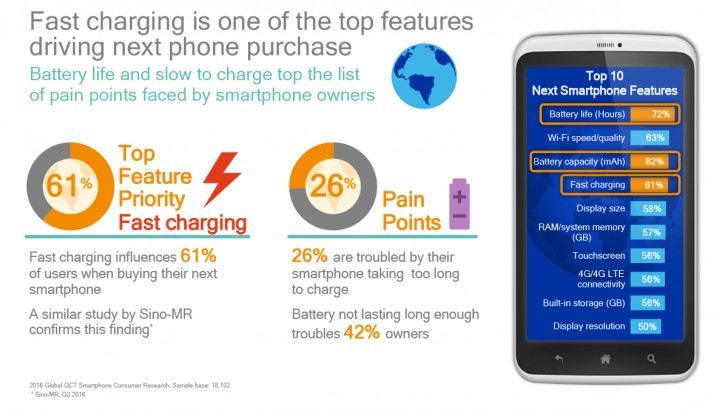 The Snapdragon 835 is currently undergoing mass production and we can expect to see these chips making their way into consumer devices starting in the first half of the year. The Snapdragon 835 brings lots of really great features and improvements to the platform, so it will be really exciting to see what phone makers build around this chip.
D
This chipset combined with a 4K mobile screen (more than 800ppi) will be the threshold spec to achieve true immersive VR.
?
Guarantee the sound quality will still be much fuller with better separation and clarity. Whether you like it or not
D
Well i will say only one thing. What says this portals isnt entirely true. First of all Gsmarena doesnt correct their mistakes either. My new Xperia Xz doesnt have 124k antutu, but 141k. Any benchmark should be taken with a pinch of salt, because...
ADVERTISEMENTS