Anand Chandrasekher, current Senior Vice President and Chief Marketing Officer of Qualcomm said Apple's A7 64-bit processor was "a marketing gimmick" with "zero benefit" to consumers. Now a spokesperson for the chipmaker has addressed the comment to TechRadar saying the quote by Anand Chandrasekher were "inaccurate".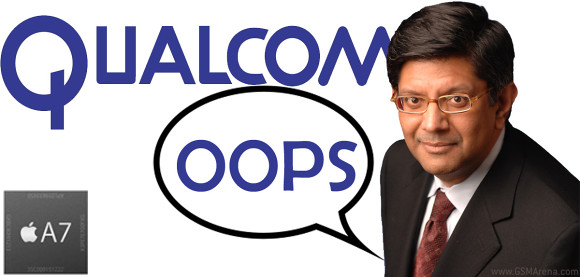 Additionally in the same statement said spokesperson noted that "The evolution to 64-bit brings desktop class capabilities and user experiences to mobile, as well as enabling mobile processors and software to run new classes of computing devices." indicating that Qualcomm itself will likely pursue the same 64-bit advance soon.
Company SVP and CMO based its "gimmick" comment on the fact that a 64-bit processor enables the use of more than 4 GB of RAM, which is clearly not available on Apple's latest gadget and points that OS developers are the ones that will eventually require the architecture. All of which isn't untrue, although the iPhone 5s managed to put some Snapdragon 800-wielding devices to shame in the performance tests.
Anyway it should be all good in silicone land now. Right?
D
Yes you can. I built a PC based on an AMD Athlon 64, back in 2004 with 512MB of RAM (which was a lot at the time, 128MB was common), the only available 64bit OS was Linux. Back in those days the Athlon's were killing Intel processors in per...
D
A note 3 costs MORE than an iPhone. A "50% less" Android phone has all the high end features stripped out.
D
Well said bro perfect and true answer regarding A7 64 bit vs Sanpdragon 800.