Qualcomm has just revealed its Snapdragon roadmap, showing us the chipsets that we should be looking forward to this year and things are looking pretty exciting. Apparently, we are just a few months away from mobile chipsets with 2.5GHz quad-core CPUs.
The S4 class of the Snapdragon family, which will be used in next-generation devices, will be using 28nm architecture for much better power-efficiency than the current crop of mobile chipsets. It will offer single-core, dual-core, and quad-core processors clocked all the way up to 2.5GHz plus a new GPU.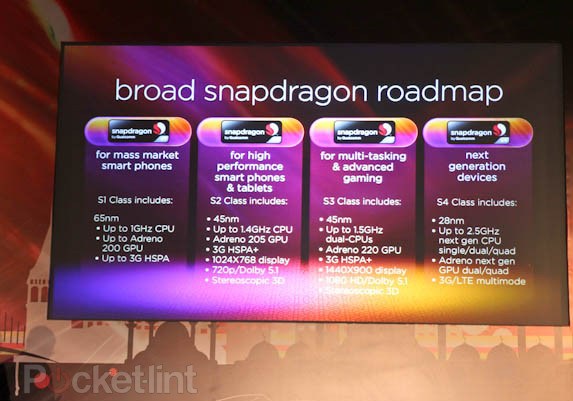 So far, Adreno GPUs haven't won many battles on the mobile front, but Qualcomm will obviously try and change that. The next Adreno will be using new architecture and will have either two or four cores. So the top model of the next Snapdragon generation should have 8 processing cores - four for the CPU and four for the GPU - amazing right?
Finally, Qualcomm will also make sure that it's not lagging behind in terms of network radios and it will be equipping its next gen chipsets with 3G and LTE antennas. With the LTE network coverage expected to rapidly expand over the next couple of years we can't see anyone being shocked about that.
V
Sorry dude four years from your comment pass but android gaming didint improve much. Well where is hardware capable of x360 performance, but lack of developers interest to make hardcore games for platform, which is at best casual, doesn't make thing...
T
While it's true that the clock speeds are coming up, Intel processors are still going to be faster, even at the same clock speeds. Similar to how AMD processors don't carry out code at the same rate as relative Intel processors... Still, I'm looki...
a
what is the first tablet to run this chip
ADVERTISEMENTS