Qualcomm, the company behind Snapdragon, teased its successor - the MSM8960 has two cores, five times the performance, better graphics and a multi-mode 3G and 4G modem. They also have a couple of other dual-core systems using the current Snapdragon core but at higher frequency.
Two Systems on a Chip (SoC) we'll be seeing next year are the MSM8260 and MSM8660. They pack two Scorpion cores (same core as current generation Snapdragons) but run at 1.2GHz and they're shipping to manufacturers already.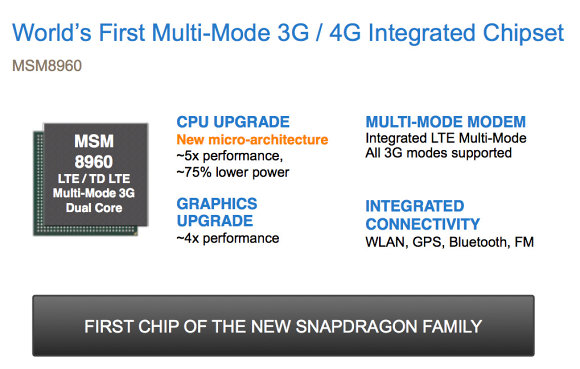 The MSM8960 SoC steals the show however. It is based on a newer core and it has two of them - and they will have 5x the performance, compared to a single-core Snapdragon SoC. The new Adreno GPU gives a 4x boost to the graphics compared to current Adreno GPUs (like in the HTC Desire) and Qualcomm claims the performance will be similar to that of the Xbox 360 and PlayStation 3.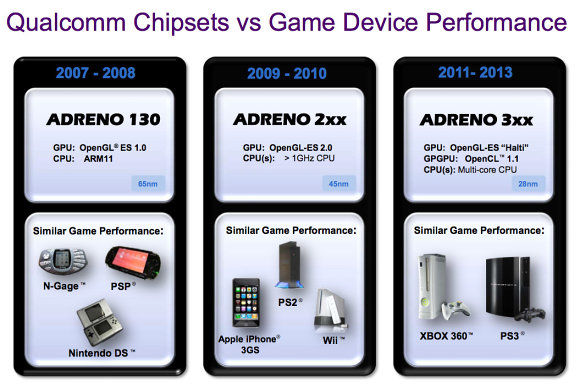 It's a pretty bold claim, considering the MSM8960 also boasts a 75% reduction of the power consumption. Anyway, besides the CPU and GPU, the SoC also includes support for all 3G modes and LTE Multi-Mode.
Current Snapdragon SoC powers both high-end Androids and Windows Phone 7 mobiles. They will be replaced by the new additions - in 2011 at the earliest.
Texas Instruments have talked about their next-gen CPUs - Cortex A9 and one of the SoC based on it is the NVIDIA's Tegra 2 platform. There are phones and tablets based on it that are in the works (or shipping already).
V
My galaxy s6 from 2015 has around same processing power of ps3 or xbox 360, and where is no such a game to come close to these console performance on android, so it's really funny to see qualcomm ad about adreno 3xx series :D
E
dualcores will be 100% useless on mobile phones as andriod does not do any real multi tasking and its gonna take about 3-5yrs for devs to start coding their crap with dualcore.. a single 2~3Ghz core is the way to go for now.
ADVERTISEMENTS