The HTC EVO 3D has a 1.2GHz dual-core CPU, 4.3" glasses-free 3D screen with qHD resolution, MHL TV-Out and so on - all except a proper launch date. Now a flyer from RadioShack is pointing to 24 June as the date when HTC's 3D-loving gadget will be available.
Radio shack have been taking pre-orders for the HTC EVO 3D - $200 on a 2-year contract with Sprint or $500 SIM-free. Actually, this latest brochure seems like an updated version of the first one we saw.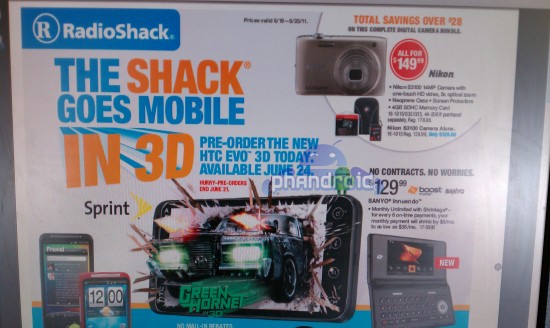 RadioShack will be taking pre-orders for the EVO 3D by 21 June. The new brochure doesn't give a price for the phone, so we assume pricing hasn't changed.
There's still nothing new on the existence of the GSM version of the HTC EVO 3D, even though HTC France sort of promised back in March. Until then, if you can live without the 3D (or don't want it in the first place), the HTC Sensation 4G (for T-Mobile USA) or the global version are well worth a look.
D
Either way, it's like they _try_ to make brochures promoting stereoscopy more hilarious; this one not only succeeding to nicely convey depth in mere "2D"... but also showing the screen under an angle where parallax barrier could give only o...
D
I wonder if this device uses the same (somewhat lacking compared to the Incredible S') 4.3" panel like the Sensation behind the parallax barrier.
S
Read the news - the GSM version of the EVO 3D is not official yet. That makes it hard to say when it will be available anywhere.
ADVERTISEMENTS