Display
Update, Nov 13: We've updated this page with new test findings following a retest of the Razer phone after we discovered that some of the previously published test results of max brightness and color rendering were not at their best due to a software glitch.
Razer talks the big talk when it comes its 5.7-inch mobile display. In keeping with "PC master race" traditions, the screen in question has plenty of titles and figures to throw around: ULTRAMOTION, 120Hz, IGZO, Wide Color Gamut. Also In keeping with some less than admirable PC marketing habits, Razer also made a few bold claims regarding the panel on stage: "The ultimate in mobile entertainment", "The world's first 120Hz ULTRAMOTION display".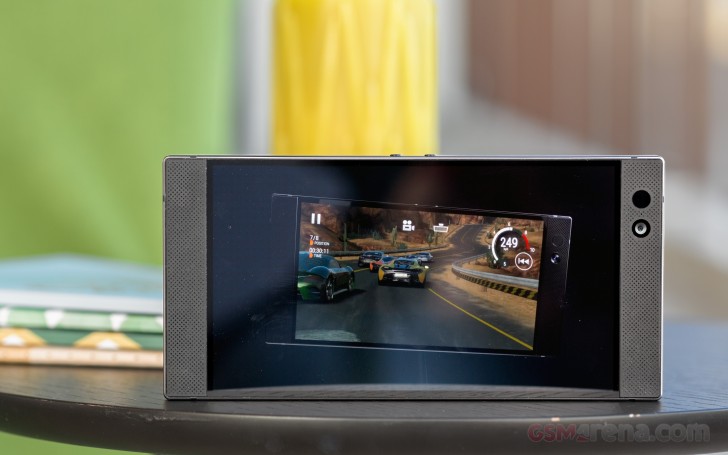 While the latter could technically be considered true, solely on the grounds of the new ULTRAMOTION branding, it stung quite a bit, since SHARP has been manufacturing high refresh rate mobile screens for some time now and even shipping them to suppliers of lesser known devices that never made it to our part of the world.
But, technicalities aside, it is a fact that the Android realm has been stuck with 60Hz panels for quite some time now and it was only recently that the glorious smoothness of high refresh rate reached parts of Apple's lineup as well. This is probably the most revolutionary aspect of the Razer Phone and almost definitely the first one users are going to notice once they pick up the phone for the first time.
Within the main phone UI, Razer managed to achieve fluent frame rates all the way up to 120 - just enough to saturate the maximum 120Hz refresh rate of the panel.
Every animation and every scroll looks much smoother and makes it feel like we're witnessing some extra processing power.
In reality, the Snapdragon 835 powering the Razer Phone is just as powerful as that on other flagships. But once you experience the smoothness of the high refresh rate operation, you would wish you would never have to look back to conventional displays.
Notice that we are not talking about a constant increase to 120Hz since ULTRAMOTION technology is based on a variable refresh rate, quite similar to Nvidia G-Sync or AMD Freesync. At every given moment, the screen refresh rate adapts to match framrate that the GPU outputs resulting in an ultra smooth motion.
This is what actually makes for a smooth and fluent experience, since you essentially get to see every frame the GPU pushes out, instead of having the panel display the same frame over and over as it waits for the GPU to catch up to 60Hz or be overwhelmed by more than one frame and start tearing the image when you hit above 60fps.
And this syncing is important since there is not much Razer can do to guarantee consistently high framerates in all the millions of apps and games that are currently available for Android.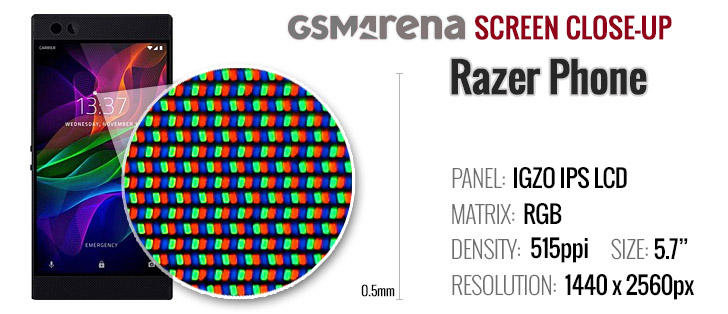 Another thing only the gaming-enthusiast part of our audience might be familiar with is IGZO technology. This might get a bit technical but bear with us for a moment. A modern flat-panel display, LCD or OLED, is generally comprised of multiple very thin layers. These can include polarisers, light diffusers and many others, but one common part is the so-called thin-film transistors (TFT for short). It is a layer of transistors that allows pixels to be turned on and off. In most panels, this layer is comprised of amorphous silicon or aSi - a material that is not transparent by nature, but gets etched thin enough for light to still be able to pass through it, so that the display can actually, well, display things.
This is where IGZO comes in, it is an acronym for "indium gallium zinc oxide" - a transparent alternative to aSi that's better at passing light through. Manufacturers can thus leverage IGZO technology in one of two ways: either boost the maximum brightness of a panel or lower the power consumption necessary to achieve some desired brightness level.
Razer seems to have opted for the latter since the Razer phone has one of the dimmest screens we have ever seen. Its brightness maxes out at just 300 nits (on both 60 and 120 Hz modes). There is no brightness overdrive mode either, so you are stuck with this subpar result. Contrast is very good, though, thanks to the deep blacks, but overall those are not flagship-grade numbers for sure.
Display test
100% brightness
Black, cd/m2
White, cd/m2
Contrast ratio
Samsung Galaxy Note8 (Max Auto)
0
850
∞
Nokia 8
0.382
703
1840
Samsung Galaxy S8+ Max auto
0
647
∞
LG V30 (Max Auto)
0.032
616
19250
HTC U11 (Max Auto)
0.373
583
1563
Sony Xperia XZ Premium (sRGB)
0.48
576
1200
Sony Xperia XZ Premium
0.463
573
1238
LG G6 max auto
0.277
564
2036
Xiaomi Mi Mix 2 (Increased Contrast)
0.4
515
1287
HTC U11
0.308
483
1568
Google Pixel 2 XL
0
482
∞
LG G6
0.228
468
2053
Samsung Galaxy S8+
0
442
∞
Huawei Mate 10 Pro (vivid)
0
440
∞
OnePlus 5
0
435
∞
Huawei Mate 10 (vivid)
0.314
433
1379
Google Pixel 2
0
428
∞
Huawei Mate 10 Pro (normal)
0
422
∞
Huawei Mate 10 (normal)
0.3
415
1383
LG V30
0.002
414
207000
Samsung Galaxy Note8
0
412
∞
Xiaomi Mi Mix 2
0.379
387
1020
Razer Phone (updated)
0.251
300
1195
On the flip side though, we can only assume Razer is saving quite a bit of power by running its IGZO display so dim. There is a major power saving aspect to the ULTRAMOTION variable refresh rate technology as well. While Razer does allow you to set a desired refresh rate in the settings: 60Hz, 90Hz or 120Hz, doing so does not fix the refresh rate at that number. Since it is variable, when there is nothing happening on screen, the phone can theoretically lower its refresh rate all the way down to 1Hz, also reducing the panel's power consumption.
While on the topic, Razer also allows resolution change. Natively, the display runs at QHD, but you can also set it to run at 1080p or even 270p. In the past, we have already determined that doing so has little battery life benefits and the case was the same here. So, our first guess was that this could help with frame rates, so we can saturate that 120Hz refresh rate as best we can. As it turns out, this is not entirely true either.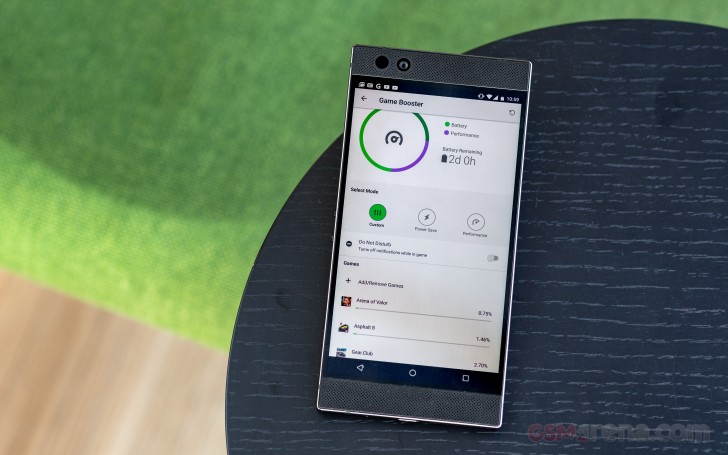 We will get into more detail in the performance section, but as it turns out, most game engines can't really come close to the 120fps mark by design, no matter how much you lower resolution. Some even stop functioning correctly, especially if you start applying resolution and frame rate tweaks on a per-title level through Razer's Game Booster app.
As for colors, the Razer Phone is very accurate, with a maximum deltaE of 4.8 (point white) and an average of 2 when compared to the sRGB color space. There are no color profiles or custom adjustments available but that's okay as DeltaE of 2 is incredibly accurate. Razer supports Wide color gamut but it's not something readily perceivable with the naked eye.
Unfortunately, due to the relatively low max brightness, the 5.7-inch IGZO display, it should come as no surprise that it failed to impress in the sunlight legibility department too. You really shouldn't count on any outdoor gaming sessions.
Sunlight contrast ratio
Apple iPhone X
5.013
Samsung Galaxy S8
4.768
Samsung Galaxy S8+
4.658
Samsung Galaxy S6 edge+
4.615
Motorola Moto Z2 Play
4.459
Oppo R11
4.454
Samsung Galaxy S7 edge
4.439
OnePlus 3
4.424
Samsung Galaxy S7
4.376
HTC One A9
4.274
Samsung Galaxy Note7
4.247
Samsung Galaxy A3
4.241
Nokia 8
4.239
Google Pixel 2 XL
4.234
OnePlus 3T
4.232
Google Pixel XL
4.164
ZTE Axon 7
4.154
Samsung Galaxy Note8
4.148
Meizu Pro 7 Plus
4.147
Samsung Galaxy S6 edge
4.124
Samsung Galaxy A7 (2017)
4.124
Huawei Mate 10 Pro (normal)
4.096
Samsung Galaxy Note5
4.09
Google Pixel 2
4.023
LG V30
4.022
Huawei Nexus 6P
4.019
OnePlus X
3.983
Vivo Xplay5 Elite
3.983
Oppo R7s
3.964
Apple iPhone 7
3.964
Apple iPhone 8 (True Tone)
3.957
Huawei P9 Plus
3.956
Meizu Pro 6 Plus
3.935
Lenovo Moto Z
3.931
Samsung Galaxy A7 (2016)
3.918
OnePlus 5
3.914
Samsung Galaxy C5
3.911
Samsung Galaxy C7
3.896
Samsung Galaxy A5
3.895
Samsung Galaxy J7 outdoor
3.879
Samsung Galaxy J2 outdoor
3.873
Samsung Galaxy A8
3.859
Sony Xperia XZs
3.818
Samsung Galaxy A9 (2016)
3.817
Motorola Moto X (2014)
3.816
Samsung Galaxy J7 (2017)
3.812
Samsung Galaxy A5 (2017)
3.804
Samsung Galaxy J7 (2016) outdoor mode
3.802
Xiaomi Redmi Pro
3.798
LG V20 Max auto
3.798
Sony Xperia XZ
3.795
Samsung Galaxy A5 (2016)
3.789
Apple iPhone 6s
3.783
Meizu Pro 5
3.781
Microsoft Lumia 650
3.772
Xiaomi Mi 6
3.767
Sony Xperia XZ1
3.765
Samsung Galaxy J7 (2016)
3.756
Sony Xperia XZ1 Compact
3.729
Apple iPhone 8 Plus (True Tone)
3.725
Oppo F1 Plus
3.709
Vivo X5Pro
3.706
Samsung Galaxy A3 (2017)
3.688
Apple iPhone SE
3.681
Huawei Mate 9
3.68
Samsung Galaxy A7
3.679
Meizu PRO 6
3.659
BlackBerry Priv
3.645
Sony Xperia XA1 Ultra
3.597
Apple iPhone 7 Plus
3.588
LG G6
3.556
Apple iPhone 6s Plus
3.53
Motorola Moto Z Play
3.526
Samsung Galaxy J3 (2016)
3.523
Samsung Galaxy J3 (2016) outdoor mode
3.523
Acer Jade Primo
3.521
Microsoft Lumia 950
3.512
Oppo R7 Plus
3.499
nubia Z11
3.466
Huawei P10 Plus
3.456
HTC U Ultra
3.453
Samsung Galaxy J7
3.422
Meizu MX5
3.416
LG V20
3.402
Huawei P10
3.379
Samsung Galaxy J5 (2016)
3.378
Oppo R9s
3.352
Honor 8 Pro
3.341
Oppo R7
3.32
Lenovo P2
3.316
Honor 9
3.289
Xiaomi Mi 5s
3.276
Nokia 5
3.261
Nokia 6 (Chinese version)
3.244
Nokia 6 (Global version)
3.238
Samsung Galaxy J2
3.235
Sony Xperia X Performance
3.234
Xiaomi Mi Note 2
3.228
Motorola Moto X Play
3.222
Oppo F3 Plus
3.218
Huawei Mate 9 Pro
3.206
Huawei P9
3.195
Xiaomi Mi Mix 2
3.19
ZTE Nubia Z17
3.159
Lenovo Vibe Shot
3.113
Motorola Moto X Force
3.105
LG Nexus 5X
3.092
HTC U11
3.089
Huawei Mate S
3.073
Microsoft Lumia 640 XL
3.065
Sony Xperia XA1
3.012
Sony Xperia L1
2.994
Huawei P10 Lite
2.974
Samsung Galaxy Note
2.97
Sony Xperia Z1
2.95
Huawei Mate 8
2.949
Xiaomi Redmi 4
2.92
Xiaomi Redmi 3S
2.913
Sony Xperia XA Ultra
2.906
LG G5
2.905
HTC One S
2.901
Xiaomi Redmi 3s Prime
2.893
Xiaomi Mi 5s Plus
2.884
Sony Xperia XZ Premium (sRGB)
2.877
Sony Xperia XZ Premium
2.877
Sony Xperia Z5
2.876
Nokia 3
2.871
Microsoft Lumia 550
2.851
Lenovo Moto M
2.813
Xiaomi Redmi 3 Pro
2.803
Sony Xperia Z5 compact
2.784
Meizu MX6
2.751
LG V10
2.744
Huawei Mate 10 (normal)
2.742
Xiaomi Redmi 3
2.735
Xiaomi Redmi Note 4 (S625)
2.714
Meizu M5
2.71
Sony Xperia M5
2.69
Xiaomi Mi A1
2.689
Huawei P9 Lite
2.679
Xiaomi Redmi 4 Prime
2.679
Vivo V3Max
2.659
Xiaomi Mi Mix
2.658
Doogee Mix
2.642
Xiaomi Mi 4i
2.641
Xiaomi Redmi 4a
2.635
Xiaomi Mi 5X (Standard)
2.616
Sony Xperia XA
2.609
Motorola Moto G4 Plus
2.582
Motorola Moto G4 Plus (max auto)
2.582
Meizu M5s
2.58
Xiaomi Mi 4c
2.574
LeEco Le Max 2
2.567
Microsoft Lumia 640
2.563
Asus Zenfone 3 ZE552KL
2.563
Xiaomi Mi Max 2
2.561
Motorola Moto G 4G
2.546
Lenovo Moto G4
2.544
Lenovo K6 Note
2.544
Oppo F1
2.528
Sony Xperia Z5 Premium
2.525
Huawei Honor 7 Lite / Honor 5c
2.506
Sony Xperia M4 Aqua
2.503
Oppo F1s
2.481
Motorola Moto G
2.477
Lenovo Vibe K5 Plus
2.473
Huawei G8
2.471
Huawei nova
2.467
Lenovo Vibe K5
2.459
Meizu m3 max
2.447
Xiaomi Mi 5X (Auto)
2.417
HTC 10 evo
2.407
Huawei Honor 7
2.406
Sony Xperia E5
2.386
ZUK Z1 by Lenovo
2.382
HTC 10
2.378
Oppo F3
2.376
vivo V5 Plus
2.371
Meizu m1 note
2.362
Huawei nova plus
2.329
Razer Phone
2.328
HTC One E9+
2.305
Alcatel One Touch Hero
2.272
Apple iPhone 4S
2.269
Lenovo Vibe K4 Note
2.254
Sony Xperia C5 Ultra
2.253
Xiaomi Redmi Note 3 (MediaTek)
2.249
Sony Xperia C4 Dual
2.235
Xiaomi Mi Note
2.234
Motorola Moto G (2014)
2.233
LG Nexus 5
2.228
Huawei P8
2.196
Meizu M5 Note
2.189
Huawei Honor 6
2.169
Xiaomi Redmi Note 2
2.166
OnePlus Two
2.165
HTC One X
2.158
LG Aka
2.145
Xiaomi Redmi Note 4 (X20)
2.145
Archos 50 Diamond
2.134
Xiaomi Redmi Note
2.119
Xiaomi Mi 4S
2.095
Acer Liquid X2
2.084
Huawei P8lite
2.078
vivo V5
2.059
Moto G 3rd gen max manual
2.026
Xiaomi Mi 3
2.001
Xiaomi Mi Max
1.996
Sony Xperia E4g
1.972
OnePlus One
1.961
Meizu m3 note
1.923
BlackBerry Leap
1.892
Meizu m2 note
1.892
HTC Butterfly
1.873
Sony Xperia Z1 Compact
1.772
ZTE Nubia Z9 mini
1.759
Sony Xperia U
1.758
Asus Zenfone Selfie
1.68
Motorola Moto E (2nd Gen)
1.675
ZTE Nubia Z9
1.659
Jolla Jolla
1.605
Motorola Moto E
1.545
Sony Xperia M
1.473
Sony Xperia L
1.351
Xiaomi Redmi 2
1.311
HTC Desire C
1.3
Meizu MX
1.221
Sony Xperia E
1.215
Battery Life
After that pretty gloomy screen chapter, the Razer Phone finds itself in desperate need of some restitution. Its massive 4,000mAh battery shows plenty of potential on paper. Considering all the supposed energy-saving factors we discussed in the displayed chapter, we were really hoping for a spectacular battery endurance rating. Unfortunately, this is not quite what the numbers show.
It appears that even with the lowered max brightness, the high refresh rate panel is really power hungry, to the point where it dragged both of our on-screen tests down pretty badly. Seven hours of web browsing is far from acceptable in a 2017 flagship. Especially one with such a massive battery. The thing is, every time you scroll a page, the phone has to work extra hard to push 120 fps to saturate the panel's refresh rate.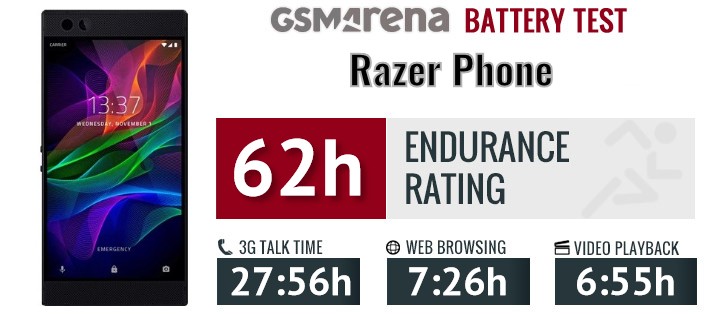 However, there seems to be more to it than that, since the H264 MP4 video we use for our playback tests is encoded at 30 frames per second. Hence, if you just let it play without constantly messing with controls, the panel maintains its variable refresh rate equally low (30Hz).
Still, that didn't help the Razer Phone surpass the seven and a half hour mark, so our only logical conclusion is that the fancy new 120Hz, IGZO panel is power hungry, no matter how hard it is pushed. So, there go our hopes of any power efficiency benefits.
However, for the sake of thoroughness and after reading the multiple requests you left in our comments, we redid our tests with the refresh rate setting fixed to 60Hz. The similar numbers only solidified our conclusion.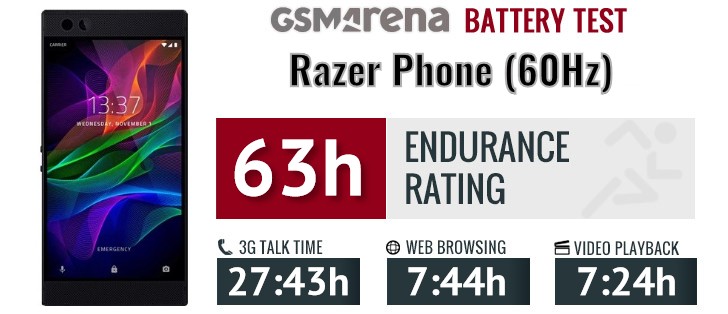 And this is not a case of bad implementation on the Snapdragon 835 chip either. Its 3G call time endurance is solid and so is its standby time of a little over 270 hours. So, the display is definitely the culprit here - battery life is really disappointing with screen-on tasks.
Charging the Razer Phone, however, is impressively fast thanks to the Quick Charge 4+ technology. We managed to get our review unit from 0% all the way up to 70% in just half an hour. And this is a 4,000mAh battery we are talking about.
That being said, wireless charging is a notable omission from the Razer Phone high-end specs list.
Connectivity
In terms of connectivity, the Razer Phone is pretty much in lockstep with the rest of the 2017 flagship crowd. Well, perhaps, minus the omission of a 3.5mm audio jack. The latter is particularly annoying since the Razer Phone doesn't really appear to be all that pressed for room. If it had space for two AMPs, it definitely should have managed a standard jack.
Another omission is dual-SIM support. The Razer Phone can only take a single nano-SIM card, although arguably, this should be less of an issue for fans than the lack of an analog audio output.
Other than that, the powerful X16 LTE modem inside the Snapdragon 835 chipset supports 21 LTE bands, which should have you duly covered. If not, there are six HSPDA ones to fall back to as well. And if all else fails, quad-band GSM support.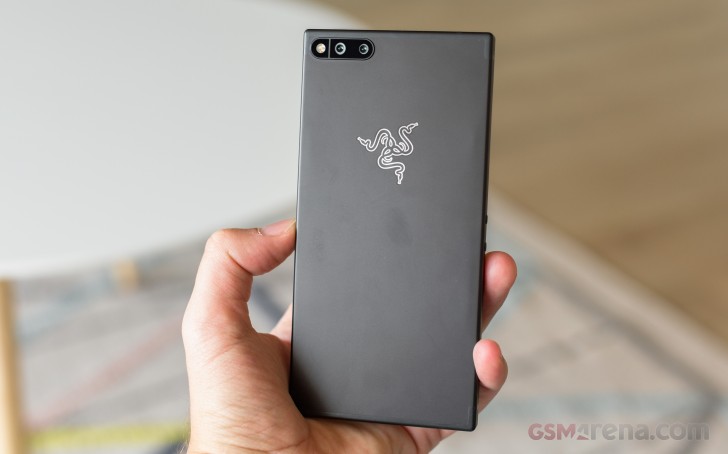 Theoretical download speeds of Cat.16 mean up to 1GBps. 4x20 MHz carrier aggregation is another great bonus to enjoy, provided your carrier has the network to match this.
In terms of local connectivity, the Razer Phone is pretty well equipped as well. You get Dual-band 802.11ac Wi-Fi. Oddly enough, the Bluetooth radio is of the older 4.1 variety instead of 5.0.
With no 3.5mm audio jack in sight, the handset is only left with a single port. So, connecting more than one thing at a time definitely means living the dongle life. On the plus side, Razer didn't skip on any trimmings for the Type-C port. Its audio output is actually analog, as opposed to Type C digital audio. That means you don't need expensive dongles or headphones, but only a passive adapter to get the sound out of the internal DAC. Razer even provides a sturdy, high-quality branded one in the box. If the latter is not up to your personal audiophile standards, you can still get digital audio output through the same port.