Introduction
The Razer Phone 2 is not your everyday, regular phone, in much the same way the Razer Blade is not exactly a conventional laptop. On the surface this might sound like a straight-out praise, but in reality, there are many facets to such a device and more than one way to approach it.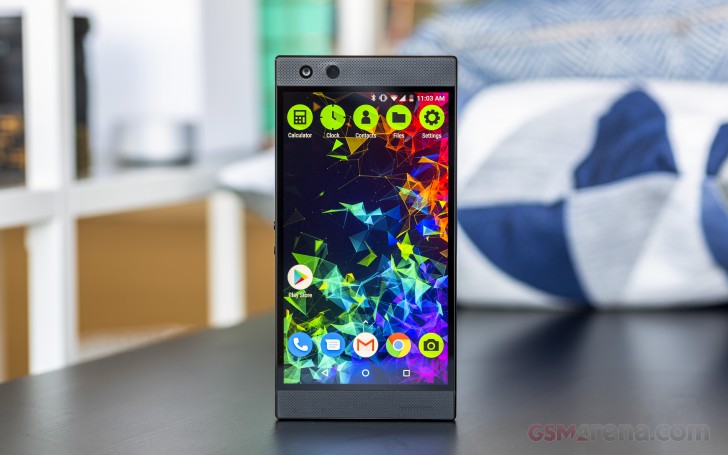 One thing is certain, however, just like its predecessor, the Razer Phone 2 is different. With its gaming-centric, yet subdued design, its focus on function over form, and its paradigm-shifting 120Hz IGZO display, the Razer Prone 2 is a unicorn of sorts. That analogy actually works very well. For some, it's going to be the perfect fit - the phone they have been waiting for. Though, the overwhelming majority won't really feel comfortable riding around on a mythical horned horse.
Razer Phone 2 key features:
Body: 158.5 x 78.99 x 8.5mm, 220 grams CNC machined aluminum unibody, Gorilla glass back; IP67 water resistance
Screen: 5.72" IGZO IPS Ultramotion LCD, 1,440x2,560px resolution (16:9); wide color gamut, 120Hz refresh rate; 580nit max brightness
Chipset: Snapdragon 845 chipset: octa-core Kryo 385 CPU (4x2.8GHz + 4x1.7GHz); Adreno 630 GPU
Memory: 8GB LPDDR4X RAM, 64GB V4 UFS inbuilt storage, microSD slot (up to 2TB)
OS: Android 8.1; Nova Launcher Prime Razer Edition
Rear camera: 12MP f/1.75 wide-angle, with OIS + 12MP f/2.6 telephoto, PDAF; dual-tone dual-LED flash; 2160p@60fps, 1080p@120fps video recording with stereo sound
Front camera: 8MP, f/2.0; 1080p@60fps video recording
Battery: 4,000mAh; QuickCharge 4+ support (proper charger included); Qi wireless charging
Connectivity: LTE Cat.18 download/ Cat.13 upload, Wi-Fi a/b/g/n/ac, Dual-band MIMO, 2x2 antennae, Bluetooth 5.0, NFC, USB Type-C
Misc: Fingerprint sensor embedded in power key, RGB Chroma logo on back, dual front-facing speakers, THX-certified dual amplifiers, 24-bit DAC, Dolby Atmos
Once you cross the threshold into "unicorn ownership" however, a few other interesting concerns start creeping up. As unique as the Razer Phone 2 is on the wider smartphone scene, it no longer exists in a vacuum. High refresh rate displays are rare, but still available elsewhere. The gaming-first approach to hardware and software is less exclusive still. Even the fancy RGB Chroma logo is not a one-off in the fast-paced mobile realm of 2018.
In fact, one of the biggest direct rivals Razer currently has in mobile gaming is itself and the original Razer Phone. Hence, the other way of examining the Razer Phone 2 and probably the most logical one - as an upgrade to the original. Externally, hardly anything has changed between the two when it comes to the overall design and the impressive IGZO display. In this regard, it's actually easier to think of the Razer Phone 2 as a hardware refresh (in PC terms), more than anything else.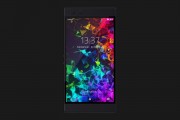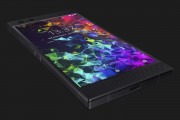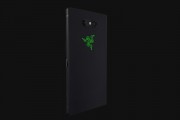 Razer Phone 2 in official renders
Like most other aspects of the Razer Phone 2 this sounds deceptively simple on the surface. Hidden underneath, however, are a few details that can make or break Razer's second-gen handset, namely those the gaming brand didn't get quite right on the first try. Battery life and screen brightness are definitely at the very top of that list. As per Razer's PR - all taken care off. If this turns out to be the case, the Razer Phone 2 could finally have little to no usability compromises as a daily driver.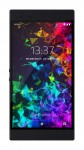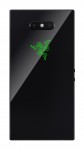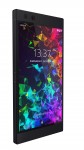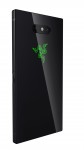 Razer Phone 2 in official renders
Unboxing
In keeping with its premium image, Razer once again opted for lavish packaging, done in thick black cardboard, plenty of padding and a soft-touch finish.
The Box is noticeable smaller this time around, but you still get a pair of thick, premium braided cables - one being the Type-C to 3.5mm audio dongle, while the other a Type-C to Type-C charging and data cable. That makes Razer one of the few to actually adopt and ship a cable with the new connector on both ends.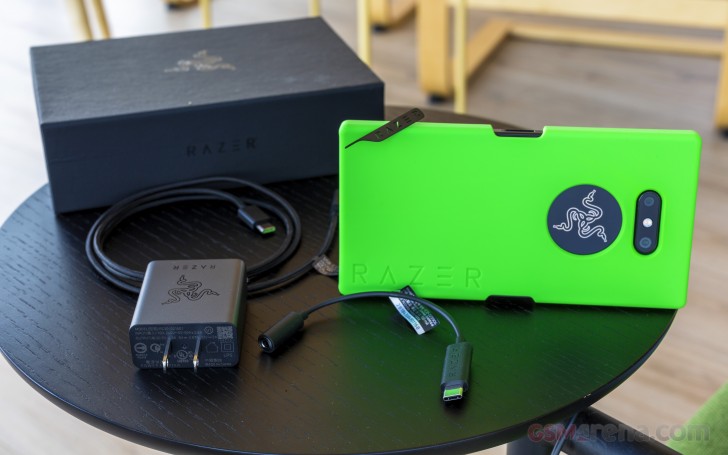 Naturally, that means that the included charger also has a Type-C port. It easily covers the Quick Charge 4+ spec, putting out 18W and even beyond. Razer actually rated it for 12V@2A as well. However, before you get too excited, you can't really charge the phone with that much power and the output is simply there to power Razer's new Qi wireless charger, also rated at 12V@2A for input. Presumably, all that RGB goodness in the charger needs the extra juice.
Join us on the following pages as we dive deeper to see just how much Razer's phone has changed, examining what makes it such a unique offer along the way.
?
i had this phone sins 2018 and i love it but the screen shattered but i did drop it of a balcony but i love Razer products
C
I have owned this phone for almost a year, and I love everything about it, I run lots of programs and messy little rooting and such for school (IT) and this works awesome for me. My only complaints are that one: this is a glass phone and if you dont ...