Razer Phone 2 appears on Amazon, adds RGB lighting, wireless charging and IP67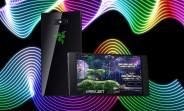 The sequel to the Razer Phone is coming later today, but you can already find it on Amazon Italy. The design hasn't changed much, most noticeable is the new position of the dual camera. Or should we say "second most noticeable"?
The specs mention "Razer Chroma RGB logo", so the most-wished feature will be present – configurable RGB backlighting for the logo. "Chroma" is Razer's platform for customizable RGB lighting for gaming PCs and accessories, e.g. it can sync the colors of all LEDs.
Other changes include the Snapdragon 845 chipset – a gaming phone needs extra GPU power. Cooling is improved with a "unique vapor chamber", which should help keep the chip from throttling during long gaming sessions.
The RAM capacity is the same, though it was already at 8GB, so it's plenty. We did expect more storage, though, 64GB isn't much.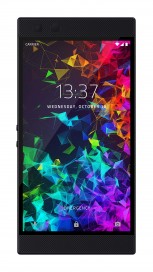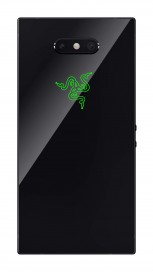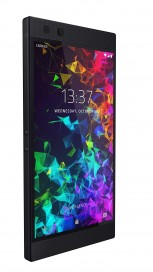 Razer Phone 2 (images by Amazon Italy)
The screen also appears to be the same – a 5.72" LCD panel with QHD resolution and up to 120Hz refresh rate (it's variable). A year later that's still the only 120Hz mobile screen, even the Asus ROG phone only does 90Hz.
Something that did change is the addition of wireless charging. Amazon doesn't list the battery capacity, but we're hoping for an improvement - the original didn't have great endurance even with its 4,000mAh battery.
Despite the nearly identical design, the body of the new Razer Phone 2 is now water resistant (IP67).
The Amazon listing has a price tag of €870, but don't put too much stock in that – wait for Razer's event later today. The first phone launched at €750.
Man oh dear i run a mobile shop. Selling many many phones each day and froma years of experience i can say Samsung cares only about money. Even for brands like Xiaomi which sells a lot more i have much less complains that for Samsung or Apple b...
Then buy a button phone. In next 2-3 years all flagships will have no jack. In next 4-5 years midrangers will have no jack. And after 5 years even a budget phones will have no jack. Its a last analog thing in a cell phone thus its needs i...
D
If Samsung's only last till their warranty expires how come my Note4's still running strong? You have no idea about power and you claim to be captain power... Pathetic.
ADVERTISEMENTS