Razer Phone 2 gets scratched, bent and burnt, lives to tell the tale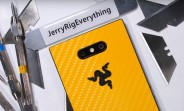 In his latest durability test, Zack from JerryRigEverything gives the Razer Phone 2 the scratch, burn and bend test and the blocky phone passed without losing its structural integrity.
There wasn't anything surprising in the video. The screen scratched like all other Gorilla Glass screens out there - at a level 6. The razor revealed the Razer Phone 2's silver aluminum skin underneath the black anodization. And finally the phone barely budged when it was exposed to the bend test.
When the LCD came under the lighter's flame it turned off but recovered fully within seconds.
Here's the full video. Now all there's left is to wait for the teardown.
s
thanks. i brought it to a razer store here in manila and they found it was indeed a loose connection. it's sorted out now and working beautifully with any of the refresh rate. i am just disappointed that display contacts went loose in just a foot-hig...
s
There might be something wrong with the screen of your Razer Phone that affects the refresh rate, you gotta send it to a third-party phone shop for repairs or you can try "fighting" against Razer by keep sending support tickets to get them to repair ...
?
aye but your on the tube so latency would suck anyway