Large display, 720p resolution
The Realme 6i has a large 6.5" IPS LCD screen with a waterdrop-shaped notch at the top. The resolution is rather low at 720 x 1,600 pixels. With a density of 270ppi - the sharpness on paper is not ideal for sure, but still usable for this class and won't get in the way of reading or gaming.
The display is protected with a Gorilla Glass 3, but there is also a factory-applied screen protector. You decide whether to keep it or not.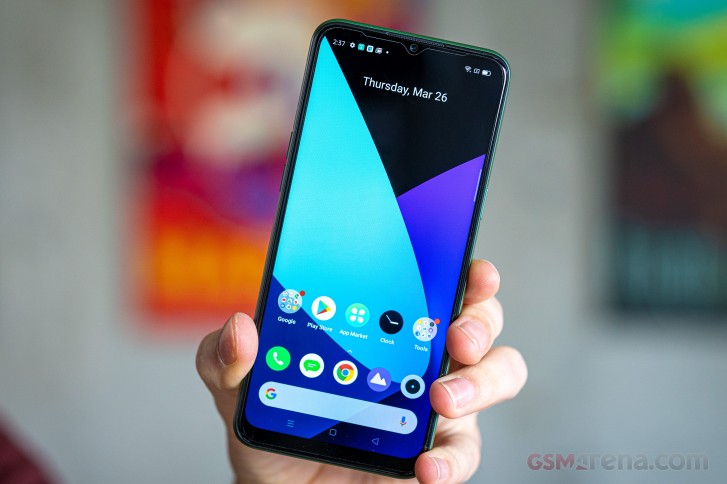 The good news is that all text is sharp enough and we saw no pixelization whatsoever. Realme has reworked the UI, and it is optimized for the 720p resolution, and nothing is visibly blurry as was the case on the Realme 3 and 5.
The Realme 6's display has a maximum brightness of 528 nits - a very good one for an LCD panel. The black levels turned out quite deep and so the Realme 6i screen scored an excellent contrast ratio of 1610:1.
For those following our tests closely - the lowest brightness we could achieve on the Realme 6i is 1.9 nits.
Display test
100% brightness
Black,cd/m2
White,cd/m2
Contrast ratio
Realme 6i
0.328
528
1610:1
Realme 6
0.343
451
1315:1
Realme 6 Pro
0.318
421
1324:1
Realme 5 Pro
0.273
512
1875:1
Realme 5
0.345
485
1406:1
Realme 5s
0.345
487
1412:1
Realme 3
0.263
385
1464:1
Realme 3 Pro
0.285
508
1782:1
Realme X
0
448
∞
Realme X2
0
432
∞
Xiaomi Redmi Note 8 Pro
0.347
460
1326:1
Xiaomi Redmi Note 8 Pro (Max Auto)
0.486
640
1317:1
Xiaomi Redmi Note 8T
0.331
450
1360:1
Xiaomi Redmi Note 8T (Max Auto)
0.453
600
1325:1
Xiaomi Redmi K30
0.399
550
1378:1
Xiaomi Redmi K30 (Max Auto)
0.527
714
1355:1
Honor 9X
0.361
464
1285:1
Honor 9X Pro
0.392
517
1319:1
Huawei P40 Lite
0.425
461
1085:1
Huawei P40 Lite (Max Auto)
0.501
515
1028:1
The color rendering is average - the screen offers accurate enough colors, and we measured an average DeltaE of 6.1 towards the sRGB color space. The representation of the white and gray colors is colder than it should be, and a blue tinge is noticeable all the time.
If you opt for the Warm color saturation from Settings, the blue tinge is suppressed a bit, and the average DeltaE drops to 4.4 - an excellent score.
Battery life
The Realme 6i is powered by a massive 5,000 mAh battery. The phone supports 18W fast charging - up from the 10W available on the Realme 5 and 3. The bundled 18W charger restores about 33% of the battery in 30 minutes and 50% in 50 minutes. Not exactly fast, but as fast as you can expect in this price segment.
The Realme 6i scored an outstanding result in our battery test with a 186-hour Endurance rating - it tops our all-time battery life chart. It did an excellent job across all test scenarios - video playback, calls, web browsing, and demonstrated almost endless standby (just as Realme promised).
Our best guess is that this great result should be equally attributed across the large battery capacity, the low display resolution, and the power-efficiency of the new Mediatek Helio G80 chipset.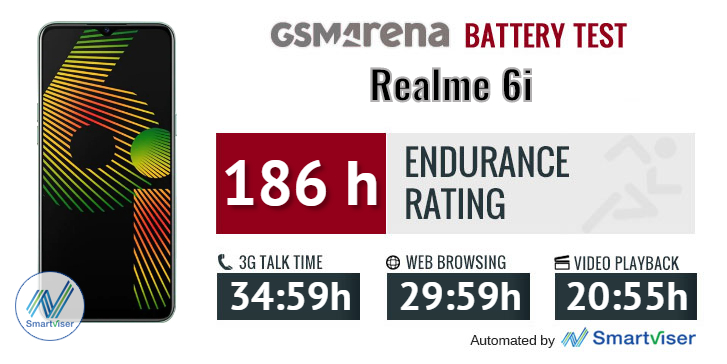 Our battery tests were automated thanks to SmartViser, using its viSerDevice app. The endurance rating above denotes how long a single battery charge will last you if you use the Realme 6i for an hour each of telephony, web browsing, and video playback daily. We've established this usage pattern so that our battery results are comparable across devices in the most common day-to-day tasks. The battery testing procedure is described in detail in case you're interested in the nitty-gritty. You can check out our complete battery test table, where you can see how all of the smartphones we've tested will compare under your own typical use.
Speaker
The Realme 6i has a single loudspeaker firing down from the bottom, and it posted a 'Below Average' result for loudness in our seven-track music test. It is good enough for vocals but lacks both in bass and high-pitched sounds.
Use the Playback controls to listen to the phone sample recordings (best use headphones). We measure the average loudness of the speakers in LUFS. A lower absolute value means a louder sound. A look at the frequency response chart will tell you how far off the ideal "0db" flat line is the reproduction of the bass, treble, and mid frequencies. You can add more phones to compare how they differ. The scores and ratings are not comparable with our older loudspeaker test. Learn more about how we test here.