Today at events held simultaneously in China and India, Realme unveiled the Buds Q and Buds Air Neo truly-wireless earbuds.
The Buds Q were designed by Hermès co-designer José Lévy and come with advertised 20 hours of combined battery life and Bluetooth 5.0.
The Buds Q are IPX4 rated to withstand water splashes and each bud weighs 3.6g - the total weight with the case is 35.3g. The Buds Q drivers are 10mm and the case supports fast wired charging - there's no wireless charging.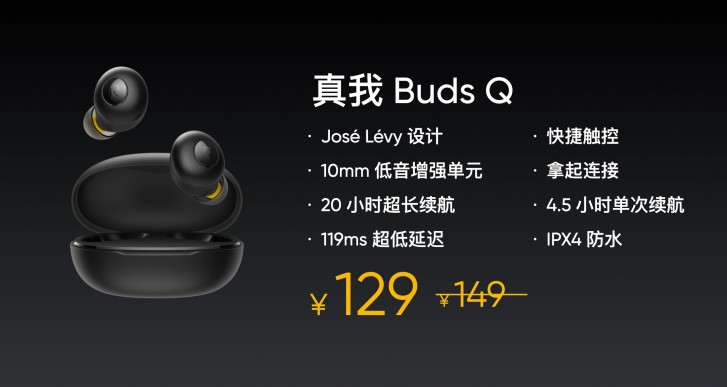 The Realme Buds Q start at a special discounted price of CNY 129 (INR 1,370, €17, converted) and are China-exclusive for now.
The Buds Air Neo are similar to Realme's Buds Air but have a slightly larger driver - 13mm vs 12mm - their case doesn't have a wireless charging option and there's no Environment Noise Cancellation.
The Realme Buds Air Neo offer up to 17 hours of combined playback (3 hours on the buds themselves), Bluetooth 5.0 with 119.2ms latency, Instant Auto Connection with a Realme phone and come in three colors - Green, Red and White.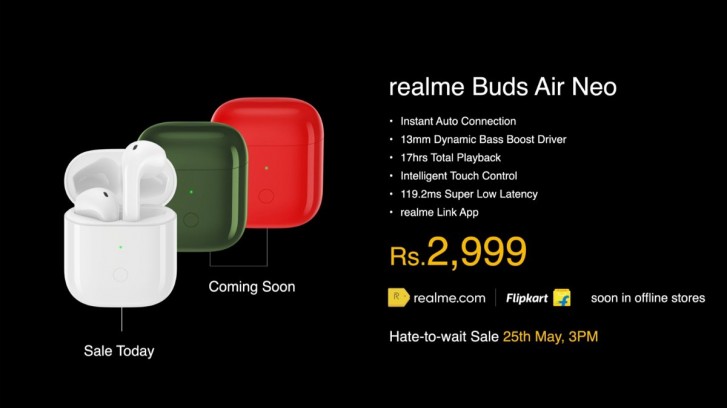 The Realme Buds Air Neo will be available in both China and India, priced CNY 270 and INR 2,999, respectively. Currently the Realme Buds Air are INR 3,999.
Finally, Realme unveiled two power banks - the 30W Dart and the Power Bank 2.
The 30W Dart power bank has a capacity of 10,000mAh and can both give and receive 30W of wired charge. It appears to be a Chinese exclusive and there's no price as of yet.
The Realme Power Bank 2 has a capacity of 10,000mAh and supports 18W two-way charging. It has one USB-A and one USB-C port.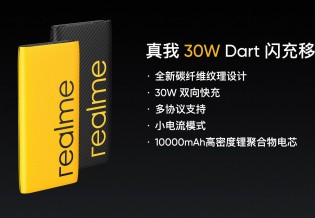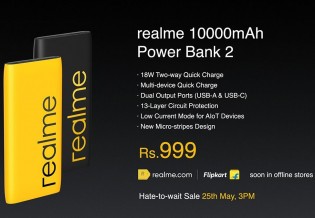 Realme 30W Dart and Power Bank 2
The Power Bank 2 is on sale in India through Realme's own site and Flipkart, priced at INR 999.
?
>highly impractical >while practically every earbud could be divided into those 2 design bold claim, i would like to know which design is "practical" for you
?
All crap, but what can we expect at those prices lol. To make matters worse, greedy China isn't even releasing the top models in other countries.
ADVERTISEMENT