Realme is all set to introduce its Q series next week on September 5 at an event in China, and the company has now confirmed that it will be powered by the Snapdragon 712 SoC.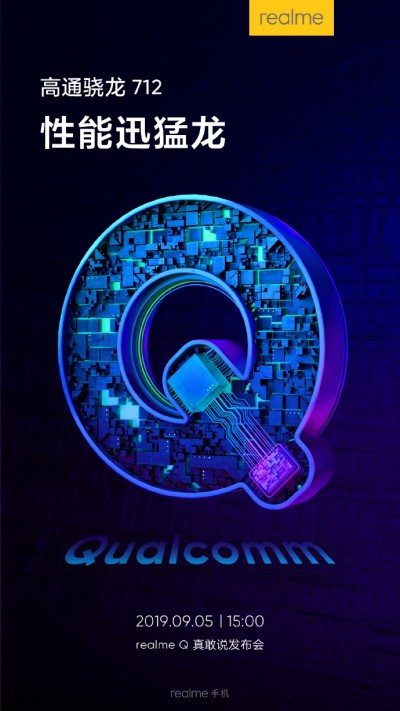 Realme CMO confirmed yesterday we are going to see four products at the event. However, an insider, familiar with the company's plan revealed to us:
Realme 5 Pro is the main hero product in the Q lineup.
Perhaps the 5 Pro will debut in China under a different moniker as a part of the Q series?
That leaves us wondering whether the 5 Pro will appear with a different moniker at Realme's home scene and if it does, with the other devices are the vanilla Realme 5 and the 64 MP Realme XT, which is the fourth one? Could we be up for a new addition to the ultra-affordable C lineup?
There are seven days until the official launch and we expect to hear more from Oppo's sub-brand with the days passing by.
S
Is Snapdragon 730 so expensive to implement ?!
L
At least midrangers are getting more powerful than the time the overrated weak sauce SD 625 was rampant last 2016 - 2017. I for one accept the overabundance of SD 71x. Hopefully it'll last until early 2020.
S
Redmi' love for Snapdragon 625 Nokia's love for Snapdragon 710 Realme's love for Snapdragon 712 Oh nooooo I am cryinggg