Realme schedules GT 2 Series global launch for January 4, reveals design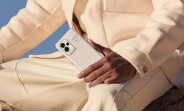 After teasing and slowly revealing information about Realme's upcoming GT 2 lineup, Realme Founder and CEO officially set a date via Twitter for the global launch of the new series. The Realme GT 2 Series will appear first in China on January 4 at 11:30 AM UTC.
Later, the global office sent out a press release, revealing the design of the flagship.
I've got some exciting news. GT 2 Pro, our first-ever premium flagship phone, will be unveiled in Mainland China on Jan 4. #realmeGT2Pro pic.twitter.com/rRNieJBIE9

— Sky Li (@skyli_realme) December 22, 2021
Realme recently revealed that the GT 2 Pro will be the first to have a 150-degree ultrawide camera, and it will be the first to have Realme's 'Ultra Wide Band HyperSmart Antenna Switching' with 12 antennas all around the phone.
It will also be the first bio-based smartphone design (inspired by paper), and once again is co-designed with Naoko Fukusawa who was involved in multiple design solutions on a number of Realme devices.
The Realme GT 2 Pro will also be the first device by the brand to sport Qualcomm's new Snapdragon 8 Gen 1, it will have an under-display selfie camera, will feature a 1TB storage tier, and a 6.7-inch QHD+ Samsung AMOLED display. According to rumors, the GT 2 Pro should have 65W fast charging.
A non-Pro variant of the Realme GT 2 is expected to arrive in India at some point with different specs and a more affordable price point.
U
I liked the Nexus design, it looked unique and easily recognizable in comparison to the generic corner bump design we see on nearly all these phones nowadays.
R
LOL, pro but not having telephoto/periscope zoom is big joke. Damn I missed the old days when pro means is "real pro" .
ADVERTISEMENTS