The Realme X50 Pro Player will be fully unveiled a week from now on May 25. Today, the company lifted the veil just a bit to show the features that will be at the heart of the phone – performance and connectivity.
The Player will be powered by the flagship Snapdragon 865 chipset connected to LPDDR5 RAM and UFS 3.1 storage. The first teaser image boasts performance improvements, though we're not quite sure what the basis is here. It's certainly not the X50 Pro 5G, which uses almost the same hardware (it does come with the older UFS 3.0 storage chips, but 3.1 brought write speed and power use optimizations, raw throughput is the same).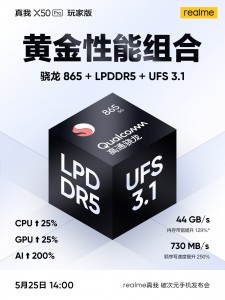 Snapdragon 865 with the LPDDR5 RAM and UFS 3.1 storage
Anyway, the phone will have 5G and Wi-Fi 6 for high speed, low latency connectivity. 5G in particular will offer download speeds of up to 2.3Gbps, the Wi-Fi could be even faster. But the company did something interesting with LTE too.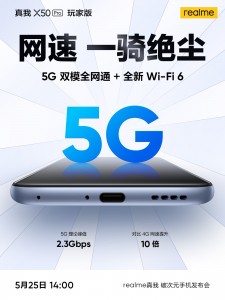 5G offers 10 times the bandwidth of the LTE connection
The next teaser image shows 360° antenna coverage for LTE, which will significantly improve the stability of the connection (you don't want dropped packets in a fast-paced game).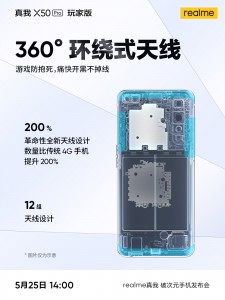 But the LTE connection will be nice and stable with 360° antenna coverage
Anyway, TENAA shows that the Realme X50 Pro Player edition will have a less capable camera (main sensor down to 48MP and the tele cam will be dropped). The screen will almost certainly be kept same, 6.44" OLED with 90Hz refresh rate, which is the more important bit.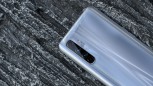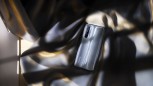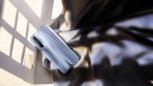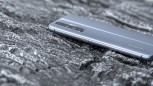 Realme X50 Pro Player edition in "Light Speed ​​Silver"
The other important part is the lower price, the Player is expected to start at around CNY 3,300, compared to CNY 3,600 for the regular X50 Pro (which is coming to Europe at €600).
T
It's see time, waiting for what realme are will doing price section for fan, I loved specification and they drop telephoto lense for price cutting it's good, and the telephoto is not famous or useable than still or areawide photo, i hope it's will be...
Too expensive
L
Flooding market with too many useless models and slashes price real quick that even Xiaomi is not doing. Great job!
ADVERTISEMENTS