Realme Watch gets improved notification management, battery optimizations with new update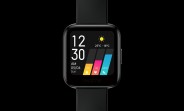 The Realme Watch unveiled last month is getting its second software update, sporting version number 81.0.
The new firmware brings improved notification management, which now displays up to 10 notifications in the form of a drop-down list on the smartwatch. Previously, the Watch only displayed one notification, like the Realme Band, meaning new alerts replaced the older ones. This has been one of the major complaints from Realme Watch users and we are glad the issue has been finally addressed by the company.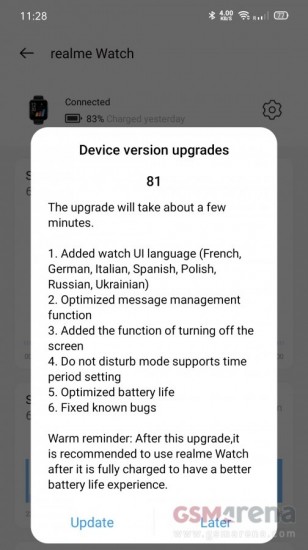 The update also adds support for seven new languages to the watch UI and now lets you enable and disable the Do Not Disturb (DND) mode automatically at your preferred time. Besides, the firmware optimizes the battery life and squashes some known bugs. You can check out the full changelog of the update below:
Multilingual UI: French, German, Italian, Spanish, Polish, Russian, and Ukrainian language options added to boot menu.
Full Character Library: Currently supported languages can use text formats to send message notifications, music messages, and weather regions.
Multi-Message Alerts (10 items): The main dial drop-down is a multi-message management interface that displays the last 10 messages (excluding missed calls).
Heart rate high/low reminder: Only two consecutive points (10 minutes) exceed the threshold value. It will only remind high or low heart rate if two consecutive readings are higher or lower than the threshold to reduce error.
Blood Oxygen level will have history progress data.
Added the function of automatically opening the control interface when the music is playing: First time when you open a music or media app, the watch will automatically show the music control interface.
Holding the power button for three seconds shows power off and restart options on the screen.
Charging interface will show time along with charging percentage.
DND Mode: Ability to schedule duration added on the watch.
Brightness adjustment supports full-screen sliding (brightness change page in settings of the watch supports scroll in the empty area also).
This update is rolling out over the air and you can install it on your Realme Watch through the Realme Link app. You'll get an update prompt in the app's Realme Watch section as soon as you open it, but if you don't, you can head over to the Device upgrade menu in the Realme Watch's settings in the Realme Link app to check for it manually.
z
Can i use this for my Xiaomi Mi Mix 3?
ADVERTISEMENT