Samsung Galaxy Tab E 8.0 as well as rumored Tab E 7.0, Tab E Lite, and Tab E Lite Kids are all coming to US
Last month, Samsung launched the Galaxy Tab E 8.0 with 4G LTE support in Taiwan. A week after that, there were reports that the company is also working on a 7-inch variant as well as Tab E Lite and Tab E Lite Kids.
Now, looks like all of these four tablets are coming to the United States as they've been spotted listed on the website of US-based retailer United Office.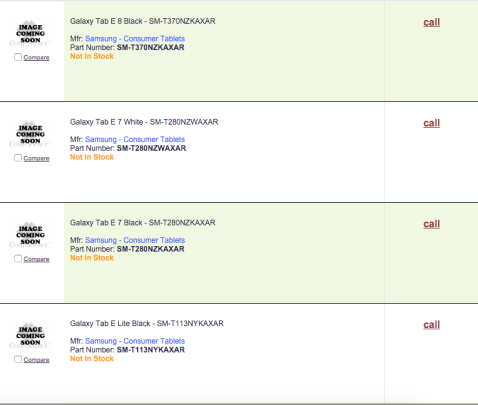 As you can see in the screenshot above, the listings do not contain any information related to the devices' pricing and availability, but the fact that they've been listed is a strong enough indication that they'll be available in the US sometime this year.
From what we've heard about the Galaxy Tab E 7.0, it's powered by a 1.3GHz processor and has a 7-inch display with 1280×800 pixel resolution. RAM is 1.5GB, while internal memory is 8GB, although expandable. It's also said to have a 4G-capable model.
A
Samsung Galaxy Tab E 9.6" Wi-Fi is also still running KitKat 4.4.4. All over the world except USA model. Do Samsung manufacture cell phones, tablets and other devices only for USA?
P
Galaxy Tab E Lite: Available in stores in Canada. Pretty low-end as it comes with KitKat for some reason. http://www.bestbuy.ca/fr-CA/product/samsung-tabl­ette-galaxy-tab-e-lite-de-7-po-de-samsung-8-go-a­ndroid-4-4-spreadtrum-t-shark-blanc-sm-t113ndwax­...
D
I want those tab 8.0 LTE, just release it in asia