The new, red colored variant of the Sony Xperia XZ Premium, which first launched last month - has now arrived in the United States.Amazon has the model listed on its website for $599.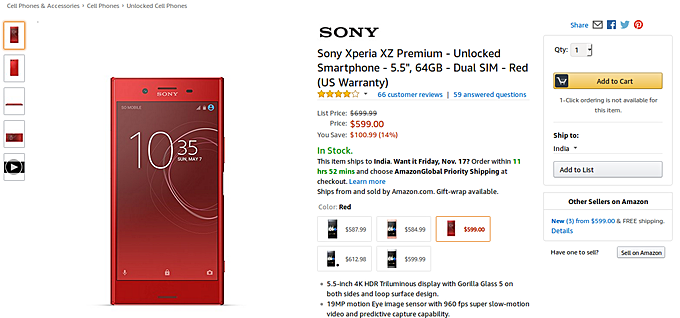 The company's home country of Japan was the fist market to get this new color. Shortly after, it arrived in Malaysia and Germany.
D
Magazines are dumb, average IQ is racing: https://en.wikipedia.org/wiki/Flynn_effect Every generation is smarter than the last, it partly explains why technological and social advancements' pace increase with time. There's a reason why magazin...
o
I don't need more content if I'm only focusing on one line. And like I said, by the time you type your message you should know what you're typing. And one-handed operation shouldn't be dead, and isn't. Single-handed operation is more safe than having...
D
Of course browsing can be done fine on a 16:9 screen. It is done in a better way on taller screen though. Think same size (of the device) yet more content (instead of bezels yet more screen estate). When you message each other you often want to ...