Last week an upcoming redesign of Google's Play Store for Android was first pictured, featuring a major reorganization of categories as well as more modern looks.
And today this new Play Store design has started rolling out, with some people already seeing it on their Android devices. Unfortunately (or not), there's nothing you can do to speed up the process if you haven't got the new paint job already.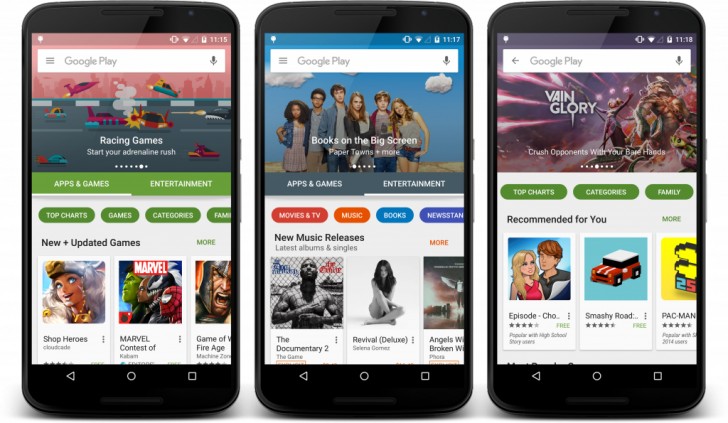 The new design isn't part of a new version of the Google Play Store app for Android, instead it's something that gets activated by the search giant server-side. And since Google loves staged rollouts, we assume this too will take at least a few days to reach all Android devices out there. Still, at least from now on we know for sure that it's on the way.
The update comes with two big sections, Apps and Games being one, Entertainment being the other. You'll find movies, TV shows, and books under the Entertainment heading from now on.
D
I wasn't making a point, I was just stating.
D
Yes but at no time did I say iOS is soooo much better than Android, you put those words in my mouth. Or did you not? And in other news this is pointless and going nowhere slowly, ciao :)
D
OK, now I'm totally confused?! Can you update multiple apps at the same time in App Store or not? Why did you write this then? : Roy86: "I Hope they allow multiple app download/upgrade instead of one by one." Honest Realist: "Lol and droid...
ADVERTISEMENTS