Redmi 10X rakes in the cash in just 5 minutes during its first major sale
Five minutes is all it took for Xiaomi's Redmi 10X to reach CNY 100 million ($14 million) in sales in its first outing. The Redmi 10X 5G probably accounted for the bulk of the sales as today is its first day of availability (while the Redmi 10X 4G has been available since last week).
If you're thinking that 5G ran out of stock, you'd be half right – Mi.com is showing that it's all out of the cheapest version, 6/64GB, but the 6/128GB and 8/128GB options are still available. Suning still has 6/64GB units, though, so you can still get the CNY 1,600 version (JD is completely sold out).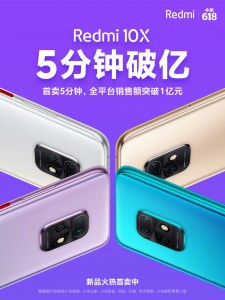 Redmi 10X celebrates CNY 100 million in sales (achieved in just 5 minutes)
Going by these numbers, Xiaomi sold around 50,000 Redmi 10X units, give or take a few thousand depending on which memory configurations proved the most popular.
Expect to see a similar rush five days from now when the Redmi 10X Pro 5G becomes available (on June 6). It will start at CNY 2,230, but that premium will pay for an 8MP 3x telephoto camera, a dedicated 5MP macro cam, a better selfie cam and faster charging (33W vs. 22.5W).
c
Does the Redmi 10X 5G have Google installed? I've been told that some phones manufactured in China, don't and for banking security, Google is vital for me.
T
I guess people have accepted the power of MediaTek Dimensity 820 chipset and this smartphone could be a great seller in India too.
A
Not surprised, Redmi 10x is pretty solid and one of the affordable 5G options at the moment. Dimensity 820 coming through with its power.
ADVERTISEMENTS