Redmi Note 7 was introduced just two days ago, but the official announcement missed to mention an important feature - the ports and buttons have watertight seals. Xiaomi's CEO, Lei Jun now confirmed that on Weibo.
He says that the engineering team put a lot of effort to design watertight seals for all the weak points of the handset - the SIM card tray, USB-C port, 3.5mm audio jack, the buttons and you can even find some around the camera module. Moreover, there's a membrane on the loudspeaker as well.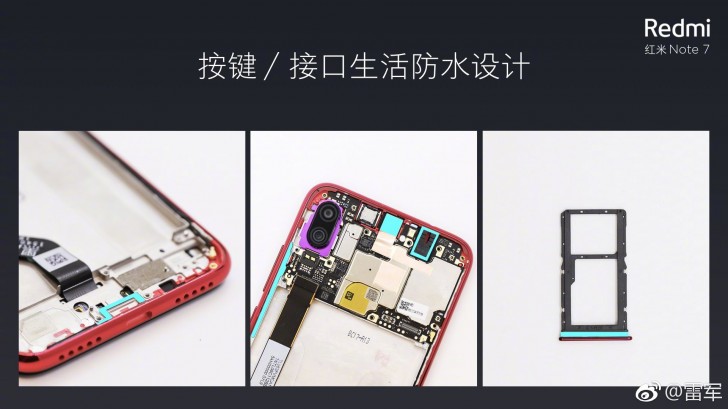 Despite the low price tag of the handset, Lei Jun says it has gone through the same quality tests as Xiaomi's flagship models. To prove it, the company is extending the standard warranty period of 12 months up to 18 months in China.
Of course, the Redmi Note 7 isn't IP-certified, but it will probably survive some splashes, accidental drops in water and everyday use in a moderate dusty environment. We hope it steps out of China soon enough.
f
Mine accidentally dell into a bowl of water for 4-5 seconds,, the headphone jack got a couple of drops of water in and the speakers stopped working until i cleaned the jack up with some paper towels. it's still far from waterproof, but at leas...
A
Mine fell into water (fully submerged) for like 2-3 second and I see zero damage. It works like if nothing happened.
A
that's what just happened to me aswell. any chance to rescue my phone or is it dead for good?