ColorOS 6.1 vs MIUI 11
Both Realme X2 and Redmi Note 8 Pro run on Android 9-based launchers. The Realme X2 is currently booting ColorOS 6.1 while waiting for the ColorOS 7 update in a couple of months. Then the Redmi Note 8 Pro is running on the already available MIUI 11, and even if you buy it with MIUI 10, the update will be waiting for you on day 1.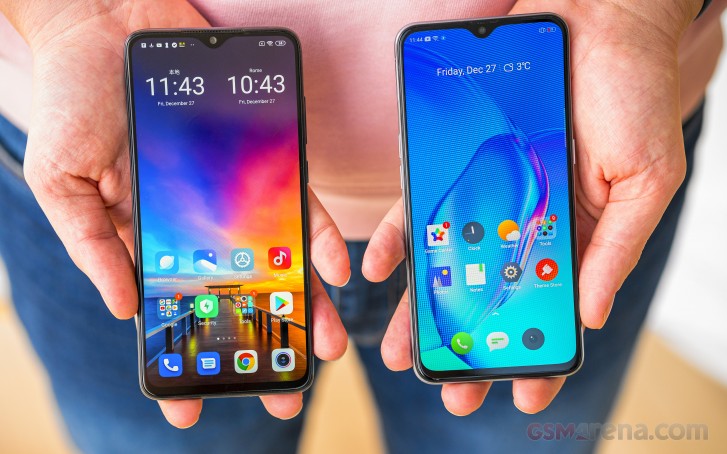 Both launchers are very different from what Google had in mind with the vanilla Android, and they have millions of followers around the globe. Oppo has been perfecting its ColorOS, and Xiaomi has been polishing its MIUI since their inception.
While the looks are quite different, both ColorOS and MIUI lie on similar principles - customization, a ton of powerful options, streamlined interface. And that's what you get on ColorOS and MIUI.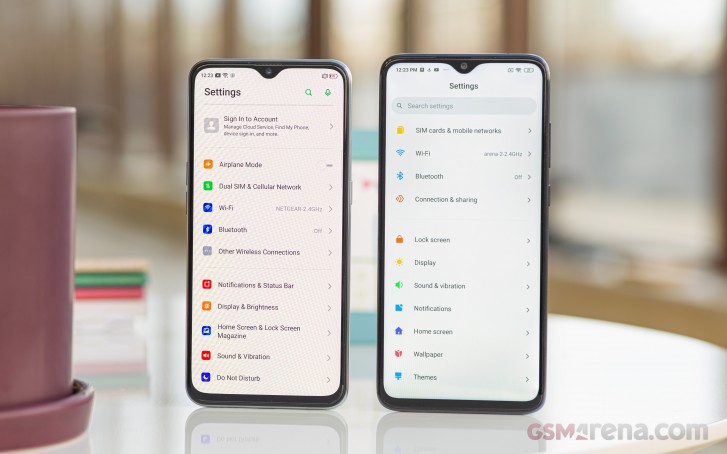 ColorOS offers an app drawer, while there is no such thing on MIUI - all your apps are just sitting on the homescreen. Then there's a weather widget in the upper right corner across from a large clock widget. There is a card pane on both Realme and Redmi. It contains different cards with relevant information - recent apps, step counter, notes, calendar events, the weather, and favorites, among others.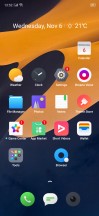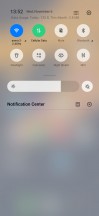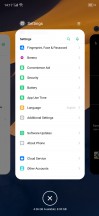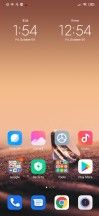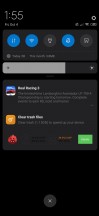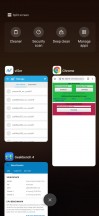 Realme X2 • Realme X2 • Realme X2 • Redmi Note 8 Pro • Redmi Note 8 Pro • Redmi Note 8 Pro
The notification shade and task switchers may look different, but they do the same job. Split-screen is available on both phones, too.
Both handsets come with Phone Manager app (called Security on MIUI), which does more or less the same across the Realme and Redmi. It can scan your phone for malware, manage your blacklist, manage or restrict your data usage, configure battery behavior, and free up some RAM. It can also manage the permissions of your installed apps, too.
And, of course, both Realme and Redmi provide basic multimedia apps - a gallery, music and video players, a file manager app, and FM radio support and app are available, too.
One thing you should know about ColorOS and MIUI is that they both feature ads across various system services and apps. Those are highly dependent on your region, with India being the most aggressive. In Europe, there are little to no ads in both launchers, though we've seen a few lurking here and there.
Winner: Tie. Even though we favor slightly MIUI 11 on the Redmi Note 8 Pro, we realise that objecively, both UIs are fast and fluid and offer a similar feature set.
Performance and benchmarks
The Realme X2 is powered by one of the most popular mid-range chips - the Snapdragon 730G, built on the 8nm LPP node. It is a variation of the vanilla Snapdragon 730 but with a slightly more powerful GPU due to the higher clock speeds. The octa-core processor packs 2x Kryo 470 Gold cores (Cortex-A76 derivatives) ticking at 2.2 GHz, and 6x Kryo 470 Silver cores (cortex-A55 derivatives) clocked at 1.8GHz. The GPU in charge of graphics is the Adreno 618 GPU. Our Realme X2 has 8GB of RAM, but it can be bought with 6GB, too.
The Redmi Note 8 Pro employs the MediaTek Helio G90T - also a gaming-centric SoC for mid-range purposes. It's based on the 12nm FinFET manufacturing process from TSMC. The G90T packs an octa-core CPU with two large Cortex-A76 cores ticking at 2.05GHz and six smaller, energy-efficient Corext-A55 cores working at 2.0GHz. The Mali-G76 MC4 GPU takes care of graphically intensive tasks. The Note 8 Pro here packs 6GB of RAM, but you can also get it with 8GB if needed.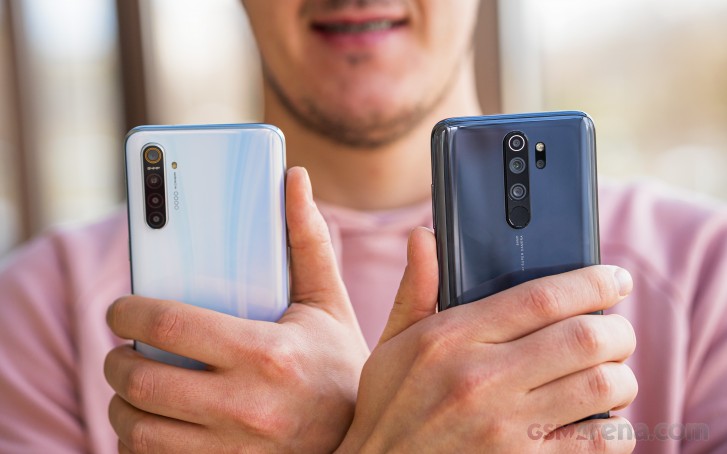 And now, let's run some tests! The Realme X2 will be in red, while the Redmi Note 8 Pro scores will be colored in green.
The Realme X2 and Note 8 Pro have similar processors - 2xA76 + 6xA55 cores. The Redmi has the A76 clocked a bit higher (+150MHz), while the Realme has the A55 cores ticking at 2.0GHz vs. 1.8GHz on the Note 8 Pro.
The Geekbench 4.1 tests show that these two CPUs are similar for all intents and purposes.
GeekBench 4.1 (multi-core)
Higher is better
Redmi Note 8 Pro
6999
Realme X2
6926
GeekBench 4.1 (single-core)
Higher is better
Realme X2
2508
Redmi Note 8 Pro
2472
We also ran Geekbench 5, which gave the Realme X2 a small advantage over the Note 8 Pro.
GeekBench 5 (multi-core)
Higher is better
Realme X2
1744
Redmi Note 8 Pro
1622
GeekBench 5 (single-core)
Higher is better
Realme X2
547
Redmi Note 8 Pro
493
The GPU benchmarks turned out very interesting. For the newer GFX 3.1 tests, both phones scored the same. But for the older and less demanding GFX 3.0 bench, the Note 8 Pro beat the Realme X2 with a noticeable 20% lead.
GFX 3.0 Manhattan (onscreen)
Higher is better
Redmi Note 8 Pro
40
Realme X2
34
GFX 3.1 Manhattan (onscreen)
Higher is better
Redmi Note 8 Pro
24
Realme X2
24
GFX 3.1 Car scene (onscreen)
Higher is better
Redmi Note 8 Pro
14
Realme X2
13
The 3D Mark Unlimited test gave a narrow win for the Realme X2.
3DMark SSE 3.1 Unlimited
Higher is better
Realme X2
2576
Redmi Note 8 Pro
2439
Finally, it's AnTuTu time! We ran both the older version 7 and the new version 8 of the popular benchmark app. And both times the Redmi Note 8 Pro scored better, although the win was not by much.
AnTuTu 7
Higher is better
Redmi Note 8 Pro
224759
Realme X2
215578
AnTuTu 8
Higher is better
Redmi Note 8 Pro
279355
Realme X2
257443
Winner: Tie. The benchmark scores clearly show that these two chips deliver similar performance across various tasks, so we can't give either one the upper hand.