Redmi Note 8 Pro withstands massive weight in an unusual durability video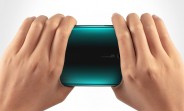 Remember the weird Redmi Note 7 durability videos? They included bashing it against a watermelon or cracking a nut on top of the display, stomping on it and kicking it down the stairs. Eventually, a proper durability test revealed the phone is not that sturdy, but Redmi is relentless in showing us new ways to extort our devices.
The latest video from the Weibo account of the Xiaomi brand puts a couple of Redmi Note 8 Pro devices under the feet of a weightlifter who snatches 90kg over his head. When the move is over, he steps away and the judges reveal the screen is perfectly working.
We are sure this is the phone for all the weightlifters to have if they want to do the move with a smartphone in their way and not the proper one - without useless gadgets. Also, Redmi must be really proud of their accomplishment that a plastic device is unbreakable as long as it isn't impacted in any significant way.
Clearly, this video is to be taken lightheartedly and not in a serious manner because this isn't the durability test that matters. We would love to see the phone launched and then disassembled to see whether it can withstand more realistic situations like an unexpected drop from the level of the waist where the pockets are.
Source (in Chinese)
?
Carbon Fiber is strong and light, but it is brittle in nature, a drop will cause it to crack easily.
?
most phones are water resistant, shock proof, and unbendable. Those phones bendable (nexus 6p, iphone 6p) do bend under special ciumstances phones are usually not exposed to. The video shows phones lying flat on the ground, facing down. Usually phone...
ADVERTISEMENTS